A Whitepaper Presented by Mölnlycke and Healthcare Purchasing News
Preventing Infections - Achieving Clinical & Economic Total Value

It's well known in the medical community that healthcare-acquired infections (HAIs) are costly, and the health consequences can be devastating. These infections are a significant source of complications and unnecessary costs across the continuum of care. To further complicate matters, healthcare staff may also be at risk for contracting certain HAIs such as Methicillin-resistant Staphylococcus aureus (MRSA) and viral infections.
Even without the mandatory national and state HAI reporting requirements and associated penalties for poor performance, hospitals and other medical facilities have compelling reasons to stay vigilant in mitigating HAIs. Controlling these infections is essential to delivering high quality patient care experiences. In addition, HAI reduction supports compliance with infection monitoring and safety regulations as well as treatment cost management.
The goal seems clear-cut. However, if it was easy to achieve, HAI infections would be more infrequent. Healthcare teams need support in the form of evidence-based solutions and best practice protocols. Supply partners like Mölnlycke Health Care have an important role to play in this regard.
In fact, one academic medical center in the Northeast U.S. was able to reduce certain HAIs by 50%, keep patients out of isolation, and see other value improvements during a quality improvement project implementing a standardized approach to patient bathing using Mölnlycke products.1
hidden1
hidden2
What is the impact of HAIs on patient care and facility operations?
Findings show:
1 in every 25 patients gets an HAI2
Up to 12 extra days of hospitalization for patients with HAIs3
~$25,000 increase in cost per admission, depending on infection type3
$28 to $45 billion in excess healthcare costs per year due to HAIs4
hidden1
hidden2
Standardizing Products and Protocols
While hospitals and other health systems strive to deliver patient care excellence and safety, they also aim to operate efficiently. To achieve all of those goals, the organization must take a strategic approach to healthcare product purchasing: a focus on true, total value.
To achieve total value in healthcare, facilities must look at the many implications of the products they purchase. These include factors which are shown to have a cost impact but are difficult to measure. Positive patient experience is one example.
For example, an analysis of Centers for Medicare & Medicaid Services data — consisting of 19,792 observations from 3,767 hospitals over a 6-year period — identified that:
1) a positive patient experience is associated with increased profitability and
2) the association between negative experiences and decreased profitability is even stronger.5
Those implications are difficult to assess but remain a meaningful part of the best overall balance between outcomes and cost. In other words, the best total value. By selecting and standardizing clinically effective products in practice, providers can attain significant healthcare cost reduction and decreased redundancy while also achieving optimal patient and staff outcomes.3
Facilities can examine specific care metrics known to also impact the facility's financials — such as HAIs — and implement standardized care to unlock the best total value. Once those costly care areas are identified, establishing a standard protocol and ensuring compliance is a simple approach to optimizing the bottom line. One facility in Maine serves as a great example.
hidden1
hidden2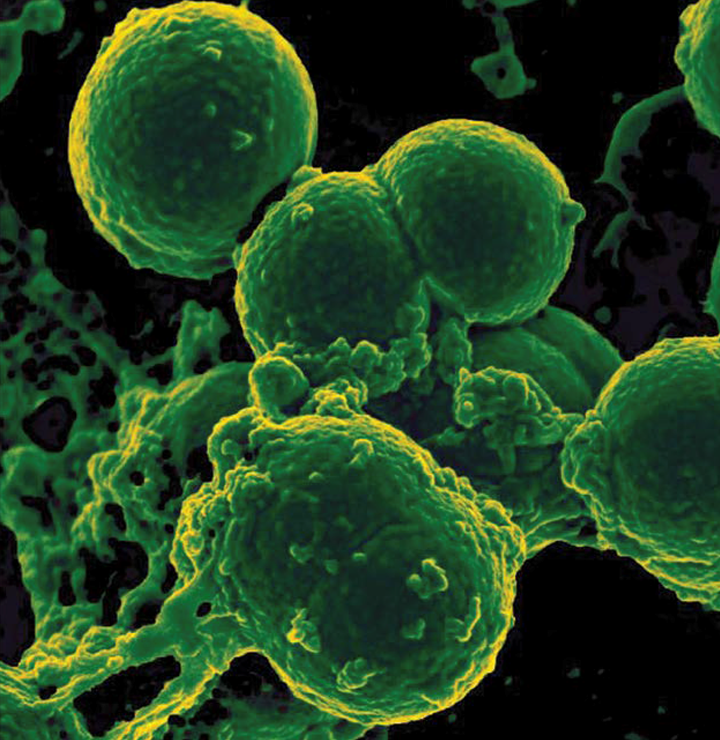 Methicillin-resistant Staphylococcus aureus (MRSA)
Photo credit: National Institute of Allergy and Infectious Diseases (NIAID)
hidden1
hidden2
MaineGeneral Medical Center's Pursuit of Total Value through HAI Reduction
MaineGeneral Medical Center is a 192 licensed-bed teaching hospital based in Augusta, ME. Ensuring patient and staff quality and safety are top priorities at MaineGeneral, and the facility works diligently to control antibiotic-resistant infections to the highest degree possible.
"Our 36 private bed inpatient care unit was isolating patients with active and colonized multiple drug resistant organisms (MDROs) but had observed non-compliance with contact precautions among staff,"1 explained Troy Cutler, RN, CIC, Infection Preventionist at MaineGeneral Medical Center.
"We had numerous patients, sometimes more than 75%, on contact precautions due to a history of Methicillin-resistant Staphylococcus aureus (MRSA) or vancomycin-resistant enterococcus (VRE) colonization. We had some central line-associated blood stream infections (CLABSIs) related to contact contamination, and we were trying to think of a way to adapt our bundle to further decrease our risk of CLABSIs," Cutler noted.

A Simple Approach to HAI Reduction: Daily Patient Bathing
Research shows that a proper bathing and cleans-ing protocol is effective for reducing the risk of HAIs — including surgical site infections (SSIs) — and aiding in the treatment and prevention of pressure injuries.6,7 Cutler and his colleague, Infection Preventionist Tracey Shaw, set out to develop a standardized daily bathing product and practice for their inpatient population as an element of their overall HAI prevention bundle. They selected Mölnlycke's Hibiclens® chlorhexidine gluconate (CHG) antiseptic skin cleanser containing 4% CHG.
Hibiclens® is an antiseptic skin cleanser that helps reduce bacteria that can potentially cause disease. It is not intended to treat or prevent any specific dis-ease or infection as a standalone therapy, but it may serve as part of a comprehensive infection prevention bundle.
"Standardizing our bathing process and costs and freeing staff time for direct patient care was appeal-ing," said Cutler. "Data from specific service lines that were using CHG bathing in our hospital had good results."1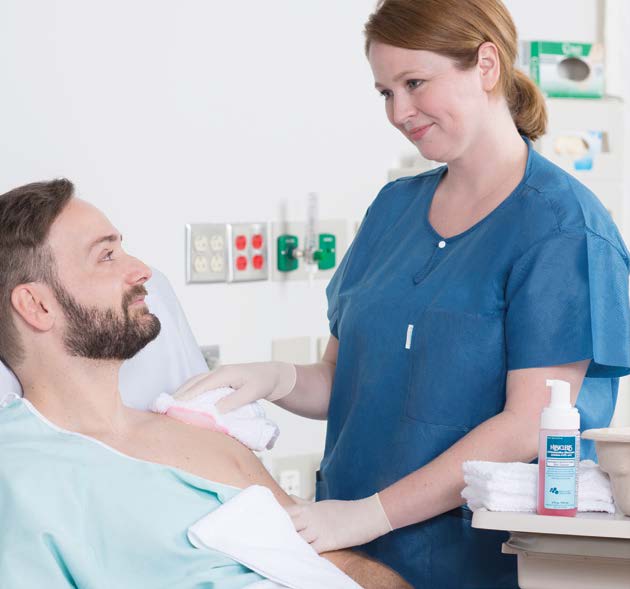 Research studies appear to be consistent with the experience described by Cutler and Shaw, demonstrating the benefits of CHG:
Daily patient bathing with CHG has been shown to reduce the bioburden of skin colonization to reduce the risk of transmission of infection from bacteria, such as MRSA and VRE.8
Patient skin antisepsis with CHG has shown to help decrease infections when used for patient bathing and incision care.6,9
MaineGeneral implemented their Hibiclens patient bathing program in 2018. All patients receive a CHG bath following their admission skin assessment. Patients with some specific pathogens such as extended spectrum beta-lactamase (ESBL), carbapenem-resistant Enterobacteriaceae (CRE) and active MDROs that could not be contained were still iso-lated, per Association for Professionals in Infection Control and Epidemiology (APIC) guidelines. Late-night admissions were isolated for the night and then bathed in the morning. Due to the success of the patient bathing program, contact precautions and routine surveillance swabs for MRSA and VRE were discontinued.2 The work resulted in a positive impact on clinical and patient outcomes as well as the facility's financial metrics.
By using a standardized, evidence-based antimicrobial skin cleanser upon admission, and with protocols executed by trained staff in a non-isolated and interactive inpatient environment, the hospital has been able to control infection spread and improve quality and satisfaction in care.
"Overall, it took about six months to 'hardwire' this process into the daily workflows of staff, make electronic medical record (EMR) changes and track and fine tune the process," Cutler stated. "There were no negative issues, even with implementation bumps along the way."The benefits of the process were manifold. For example, with patients out of isolation, staff could get back to the basics of patient bathing and hygiene care.
"Patient care has become so focused on procedures and charting and away from that simple thing: to make sure somebody gets a bath," Cutler noted. "Now, staff has time to do the bathing because they don't have to don and doff gowns."
Additionally, staff could increase interactions with patients and improve their quality of life.
"Studies show that the more you isolate patients, the more they are vulnerable to falls, longer hospitalizations and less staff interaction10," Cutler added. "When you don't have to isolate, you have a much better outcome. It's a huge game changer for facilities to not have to isolate."

Achieving Total Value in Healthcare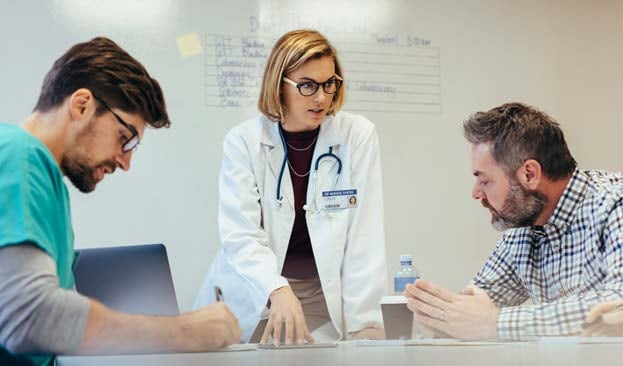 Implementing a total value approach to the Hibiclens product selection, purchase and practice helped pro-vide MaineGeneral with a larger view of cost, quality and outcomes. They were able to assess the full impact of the bathing product to help support operational efficiencies, use and consistency in care.
In this case, MaineGeneral focused on several factors, including:
Standardizing products
Improving utilization and consistency in care
Focusing on solutions proven to be the most clinically effective and cost-efficient
Preventing and managing hospital-acquired conditions
Minimizing true patient care costs and total cost of ownership
Reducing complications
MaineGeneral added this best practice into their existing patient care systems, tracking compliance and assessing clinical outcomes.1 Cutler shared, "The vendor, Mölnlycke, provided critical support to make the program a success. The partnership included Mölnlycke executing a needs assessment, setting a plan of action, rallying the healthcare teams via education and evidence, providing staff and patient support and monitoring infection prevention progress."

Leadership Support: A Key for Standardization
When the MaineGeneral infection prevention team set out on a mission to make the case to use the Hibiclens bathing program to improve patient care, leadership was welcoming.
"We pitched the project to senior leadership and received support of the CMO and the infectious disease physician," Cutler explained. "Our CMO is forward-thinking about better ways to do healthcare. He was very on board with this."
Several people and steps played a role in administer-ing the new intervention, including:
Senior leadership: Examined the proposed process and gave support.
Infection prevention: Championed the project, generated staff and patient education and provided feedback to staff.
Clinical education: Onboarded staff and provided education and huddles.
Information technology: Made changes to the EMR for data capture.
Materials management: Removed roll-on deodorants and ramped up orders of Hibiclens.
Looking back, Cutler realizes how important staff education is in changing products, processes and care.
"What seemed simple to us didn't translate as simple in conception," he explained. "We weren't going to fix this overnight. It takes time to change culture. Overall, I think we have better patient care because of the process."
As Cutler alluded to, leadership's support and reinforcement was necessary to achieve the goals the team committed to. Cutler and his team rallied the necessary stakeholders by helping them realize they could collectively provide both better outcomes and better total value.

The Bottom Line
In October 2019, the Hibiclens project was presented as a win to the Quality Council at MaineGeneral.
Following implementation of a patient bathing protocol with the Hibiclens solution, the hospital realized significant cost savings, efficiency and outcomes in care. (Note: Hibiclens is not intended to treat or prevent any specific disease or infection as a standalone therapy or as a replacement for PPE, and the PPE savings realized in this project were the result of the horizontal infection prevention approach which incorporated Hibiclens for daily patient bathing.)
Results included 1:
The hospital usage and corresponding spend for gowns reduced by 49.9% in one year.
Accounting for the increase in spend on CHG bathing products, total cost decrease in the first year through reduction in gown spend was 34.3%, and total dollar savings of $74,000.
50% decrease in CLABSIs with the first year of use (Q3 2018 to Q2 2019 data) and no trans-mission increase of MRSA or VRE. Hospital onset of MRSA was used as a baseline, as the facility had been tracking it for more than 10 years and had a good benchmark.
The facility continues to measure the impact of the bathing process on HAI reduction, patient care and staff compliance.
"Staff response has been very positive following education," Cutler expressed. "We are continually monitoring this critical prevention measure to make sure we are meeting our goals of mitigating the risk of infection to patients, families and staff."

Conclusion
Hospitals and healthcare facilities can achieve significant favorable clinical, financial and patient out-comes through the total value approach. One way of accessing total value is by selecting evidence-based products and standardizing to protocols that benefit staff, patients and costs of care. Relying on vendors with expertise and services who can provide unique partnership experiences can also increase the total value of product investments through available services such as providing best practice examples, helping identify efficiencies and offering clinical train-ing. Standardization and changes in practice aren't necessarily easy, but ultimately, they are well worth the investment. By keeping an eye on the total value of product investments, facilities can achieve the best in care provision and savings.
To learn more about total value in healthcare, visit https://www.molnlycke.us/totalvalue/.
hidden1
hidden2
References
Bathe the Patient, Get Rid of the Gown, Troy Cutler, RN, CIC, IHI Forum 2020
CDC Winnable Battles Final Report 2015
Scott, R. Douglas, The Direct Medical Costs of Healthcare-Associated Infections in U.S. Hospitals and the Benefits of Prevention March 2009. Available from: https://www.cdc.gov/hai/pdfs/hai/scott_costpaper.pdf
Sikora A. Zahra F. Nosocomial Infections. [Updated 2021 Feb 10]. In: StatPearls [Internet]. Treasure Island (FL): StatPearls
https://pubmed.ncbi.nlm.nih.gov/27050925/
Wood, S., Connelley, G. (2019). Working together, The Power of Teamwork in Preventing C-section SSI's. Perinatal Leadership Forum Poster Presentation, 2019; AORN poster presentation, 2020
2019 NPIAP Prevention and Treatment of Pressure Injuries reference guide
Septimus EJ, Schweizer ML. Decolonization in Prevention of Health Care-Associated Infections. Clin Microbiol Rev. 2016 Apr;29(2):201-22. doi: 10.1128/CMR.00049-15. PMID: 26817630; PMCID: PMC4786886
Lavalette, P., Steves, D. (2019). Utilizing a Business Case to Link Reduction in Infections to Reduction in Costs. Debra Steves, RN, BSN, RNC, Poster Presentation, AJIC
Tran, Kim, et al. "The effect of hospital isolation precautions on patient outcomes and cost of care: a multi-site, retrospective, propensity score-matched cohort study." Journal of general internal medicine 32.3 (2017): 262-268.