see the proof
Economic Evidence
Mepilex® Border is the proven 5-layer foam prevention dressing
Mepilex Border Sacrum is the only 5-layer silicone foam dressing with real-world health economic evidence in pressure ulcer prevention showing a $200,000-600,000 cost savings with $77 reduction in per patient treatment costs in a cohort of 1.03m patients.
In a recent 6-year observational study by William Padula, PhD, Johns Hopkins Bloomberg School of Public Health, published in the JWOCN the following was observed:
1. Stage 3, 4 or Unstageable hospital-acquired pressure injury outcomes were examined in 38 academic medical centers and a cohort of 1.03 million high- risk patients between 2010-2015.
2. The average AMC saw a reduction of 1 reportable pressure injury per quarter, saving 4 patients per year from serious pressure injury.
hidden1
hidden2
Mepilex Border Sacrum
Economic evidence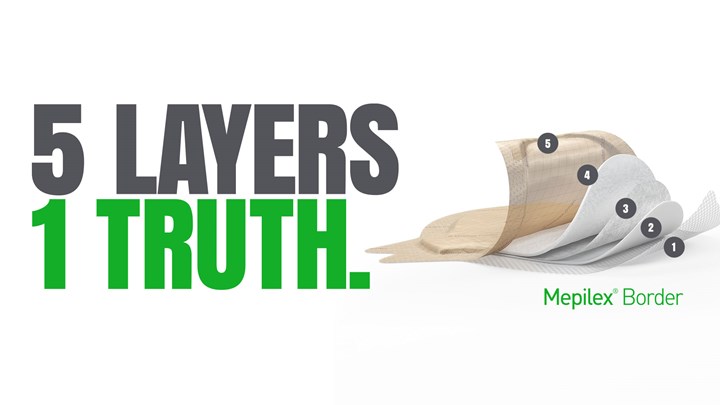 In a recent randomized controlled trial by Kalowes et al, Mepilex® Border Sacrum was associated with an 88% reduction in risk of of pressure ulcers. For an ICU department with 1,000 admissions, this pressure ulcer reduction could translate to significant cost savings.
The authors state:
"Cost savings for our health system have been significant ... Organizational estimates demonstrate that a savings of more than $1 million has been amortized in the past two years, after dressing purchase. This estimate is most likely conservative, given that the Society of Actuaries estimates the cost of treating a pressure ulcer ranges from $2,000 to $20,000 per ulcer, depending on severity. This cost savings estimate related to prevention is also consistent with other cost analysis studies of pressure ulcers."

hidden1
hidden2
View our other economic studies
Economic studies

Donovan R, Schindler P, Weinberger J. Dollars, collaboration, and pressure injury prevention (PIP): saving upwards of a million by achieving zero. Poster presentation at Wound Ostomy and Continence Nurses Society and Canadian Association for Enterostomal Therapy, Montreal, Canada, 2016.

Kalowes P, Messina V, Li M. Five-layered soft silicone foam dressing to prevent pressure ulcers in the intensive care unit. American Journal of Critical Care 2016;25(6):e108-e119.

Kalowes P, Messina V, Paige R. Reducing medical device related pressure ulcers. An interprofessional approach using data & innovation to improve adult & pediatric outcomes. Poster presentation at the Symposium on Advanced Wound Care Fall, Las Vegas, Nevada, United States of America, 2014.

Lientz J. Dollars and sense: economic value in HAPU/sDTI prevention. Poster presentation at National Pressure Ulcer Advisory Panel Biennial Conference, Houston, Texas, United States of America, 2013.

Padula William V. Effectiveness and value of prophylactic 5-layer foam sacral dressings to prevent hospital-acquired pressure injuries in acute care hospitals an observational cohort study. J Wound Ostomy Continence Nurs. 2017;44(5):1-6.

Santamaria N, Santamaria H. An estimate of the potential budget impact of using prophylactic dressings to prevent hospital-acquired PUs in Australia. Journal of Wound Care 2014; 23(11):583-589.

Santamaria N, Gerdtz M, Sage S, McCann, J, Freeman A, Vassiliou T, De Vincentis S, Ng A.W, Manias E, Liu W, Knott J, Liew, D. The cost-benefit of using soft silicone multi-layered foam dressings to prevent sacral and heel pressure ulcers in trauma and critically ill patients: a within-trial analysis of the Border Trial. International Wound Journal 2013;doi:10.1111/iwj.12160.
At Mölnlycke, we are dedicated to helping you, help patients. Explore our range of innovative medical products and solutions.
Find our products