Five essential qualities you need in a surgical dressing
hidden1
hidden2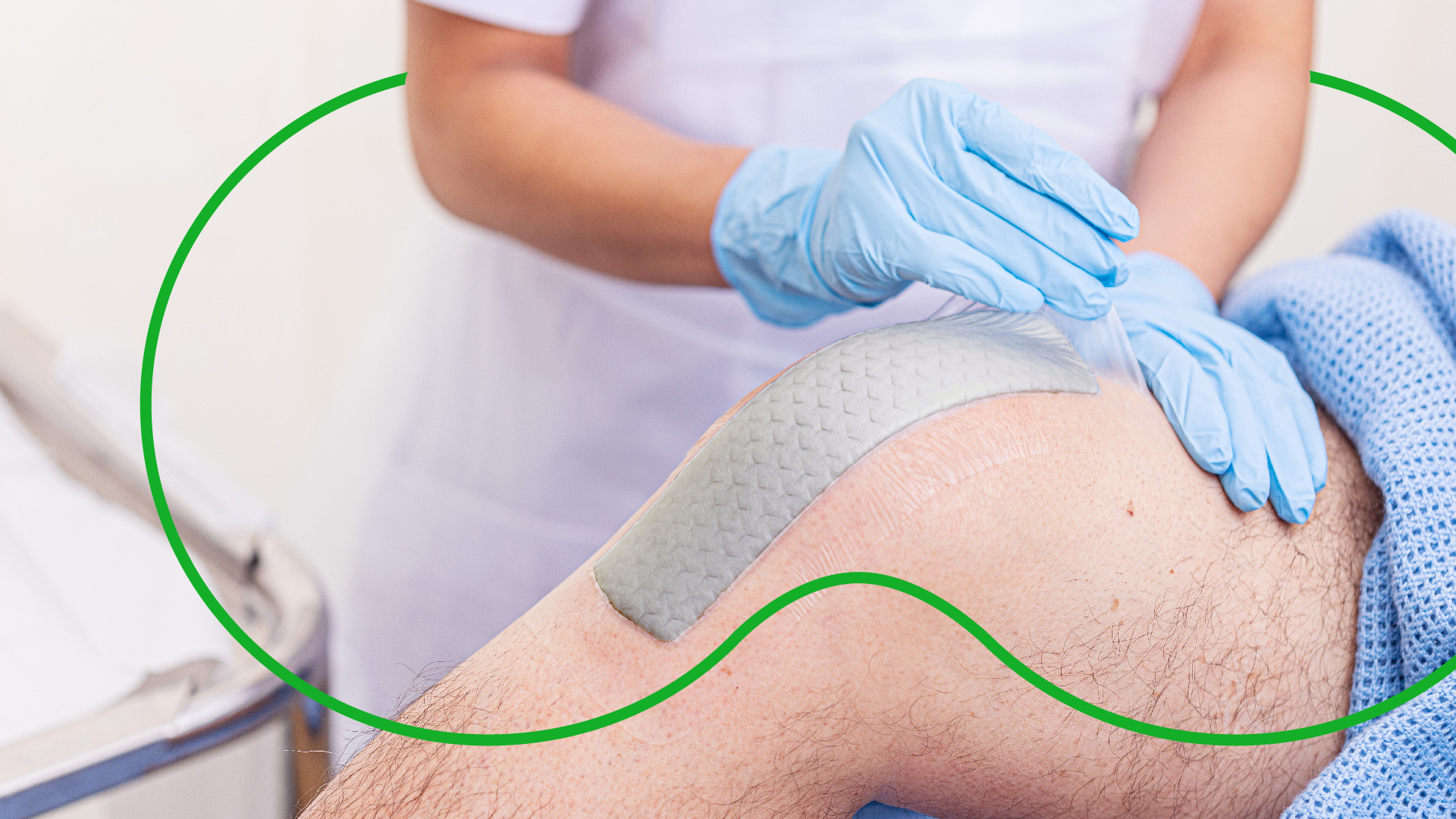 hidden1
hidden2
As elective surgeries ramp up again after a pandemic-related hiatus, surgical teams face a unique challenge: How to address increasing volume while efficiently managing O.R. throughput and hospital resources. In this environment, surgical incision care has a direct effect on these measures, and is an area ripe for optimization.
Proper post-operative wound care plays a major role in preventing serious complications and infections that further constrain O.R. capacity and increase costs. Surgical incision care represents an opportunity to mitigate risk, improve outcomes and reduce waste. Simple changes here can have a significant impact on patient outcomes and hospital efficiency.
Consider a total hip replacement for example: Wound dressings typically only account for about 0.02% of the total cost of that procedure1. Yet considering what's at stake, facilities sometimes invest inadequate attention into the post-operative dressing's impact on outcome in ways such as enabling patient mobility, optimizing the wound healing environment, peri-wound skin care and mitigating superficial infections.
hidden1
hidden2
Choosing the right surgical dressing
An international panel of experts has agreed on the top qualities that represent an ideal surgical dressing2. These qualities work in tandem to promote better outcomes in numerous ways: faster healing, increased patient satisfaction and reduced surgical wound complications3 - all of which can positively impact hospital efficiency and O.R. throughput.
hidden1
hidden2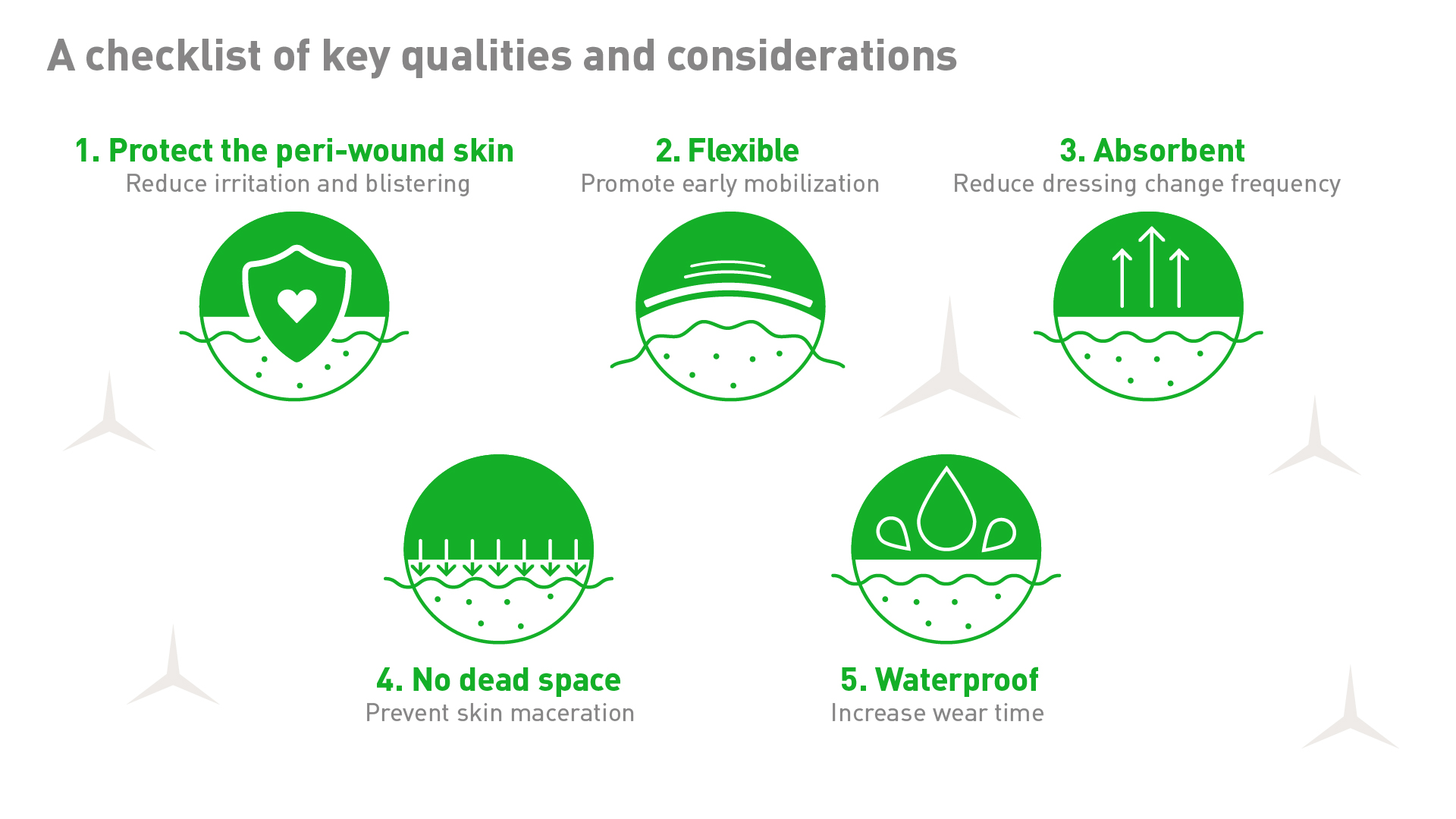 hidden1
hidden2
1. Protect the peri-wound skin
The last thing a dressing should do is cause harm, but excessively adhesive dressings may actually cause additional trauma to the skin — including blistering, irritation and increased SSI risk.
Minimize pain and skin damage
Up to 41% of orthopedic patients suffer from post-op blistering4, and overly aggressive adhesives on dressings are a major contributing factor. Blisters are not only painful, they can also inhibit physical therapy and slow down recovery. These blisters can delay discharge from the hospital — contributing to added expense — and negatively impact customer experience5.
Minimize potential for surgical site infections (SSIs)
Dressing changes can cause serious issues when excessively adhesive dressings are used on blistered skin — creating more open wounds near the incision site and increasing the risk of SSIs6. On average, a patient that acquires an SSI will spend nearly 10 extra days in the hospital7, resulting in a large financial burden to the facility and a negative experience for the patient.
hidden1
hidden2
2. Flexibility — to support patient mobility
Choosing a dressing that promotes early post-operative mobilization can positively influence both clinical outcomes and hospital throughput, not to mention patient comfort.
Shorten hospital stays
Studies show that early mobilization demonstrates significant benefits in reducing length-of-stay (LOS) after surgery. In a study of joint replacement patients, rapid post-op mobilization resulted in a shorter hospital stay in over 70% of patients8. A separate randomized controlled trial noted that rapid mobilization reduced average patient LOS by 1.8 days9.
Reduce complications
Early patient mobilization helps reduce the risk of deep vein thrombosis (DVT). As many as 84% of knee replacement patients are susceptible to DVT10 — which can prolong hospitalization time, increase medical expenses and is linked to life-threatening complications such as pulmonary embolisms11.
hidden1
hidden2
3. Absorbent — to support undisturbed wound healing
Clinicians aim to establish a moist wound healing environment without stimulating excessive moisture, and thus maceration. Highly absorbent dressings can better protect the wound from exudate and lessen the risk of contamination by extending wear time.
Improve patient experience and clinician efficiency
Dressing changes are often painful for patients and time-consuming for clinicians. Highly absorbent dressings can go longer between changes — which helps enhance patient satisfaction and efficient use of staff labor and patient care supplies.
Support undisturbed healing
Every dressing change poses a risk of wound contamination and infection. By choosing a dressing that can hold more exudate for a longer wear time, clinicians can support the practice of undisturbed wound healing (UWH), while reducing the chances of infection or maceration12,13.
hidden1
hidden2
Key benefits of undisturbed wound healing
Optimized healing environment
Lowered risk of contamination
Improved patient experience
Reduced clinician labor
hidden1
hidden2
4. No dead space — so fluid doesn't pool between dressing and incision
Besides the adhesive, it's imperative for the dressing to have absorptive foam material that stays in direct contact with the incision. This is necessary to prevent dead space where blood and exudate could pool directly onto the incision, hindering the healing process and potentially causing maceration and infection. Close-contact between the skin surface and the dressing minimizes fluid pooling to decrease the risk of reabsorption, maceration and possible infection.
Minimize negative impact of dressing changes
If blood is allowed to pool and dry near the fragile skin of the incision, the delicate newly healing skin can be damaged during dressing changes. Eliminating dead space prevents the dressing from improperly attaching to the skin, promoting an overall better patient experience.
hidden1
hidden2
5. Waterproof — increases wear time
The ideal dressing should become well-attached to the skin upon application and stay that way until the next dressing change. The presence of moisture from perspiration or showering can disturb this bond. Dressings should remain well-adhered despite any moisture introduced throughout the incision healing.
A better patient experience
Well-fixed post-op waterproof dressings help boost patient satisfaction by improving patient confidence and mobility. Waterproofing also allows the patient to shower, which can provide significant mental benefits after surgery.
hidden1
hidden2
Key takeaways
These qualities provide a model for the ideal surgical dressing. Each can have a significant impact on overall dressing performance and resulting patient outcomes by promoting:
Longer wear time with fewer dressing changes
Decreased complications and fewer delayed discharges
Better patient satisfaction and outcomes
Consideration of these five qualities when selecting a dressing for post-operative incision care can help ensure efficiency in patient care and recovery. In spite of these recommendations, many facilities leverage dressings that do not meet one or more of these considerations. Mölnlycke can help you implement consideration of these factors in post-operative wound care to optimize the results of surgical interventions.
hidden1
hidden2
Looking for a dressing that meets all of these ideal qualities?
hidden1
hidden2
References
Chowdhry M, Chen AF. Wound dressings for primary and revision total joint arthroplasty. Ann Transl Med 2015;3(18):268. doi: 10.3978/j.issn.2305-5839.2015.09.25
Morgan-Jones R. et al. Incision care and dressing selection in surgical wounds: Findings from an international
meeting of surgeons. Wounds International, 2019.
Zhao L, Yang J, Nie M, Wang D, Yan G, Li S. The Application and Evaluation of Effective Quality Management by Objectives in Patient Care for Persistent Vacuum Sealing Drainage. J Healthc Eng. 2021;2021:1234003. Published 2021 Aug 19. doi:10.1155/2021/1234003
Johansson C et al. Preventing post-operative blisters following hip and knee arthroplasty. Wounds International, 2012.
Sanusi, A.L. Severe wound traction-blisters after inadequate dressing application following laparoscopic cholecystectomy: case report of a preventable complication. Patient Saf Surg 5, 4 (2011).
Kramer, A., M. et al. Wound dressings from a hygienic point of view using the example of sorbion sachet s. GMS Krankenhaushygiene Interdisziplinar 2009.
Ban K.A et al. American College of Surgeons and Surgical Infection Society: Surgical Site Infection Guidelines, Journal of the American College of Surgeons, 2016.
Tayrose G, Newman D, Slover J, Jaffe F, Hunter T, Bosco J 3rd. Rapid mobilization decreases length-of-stay in joint replacement patients. Bull Hosp Jt Dis (2013). 2013;71(3):222-6. PMID: 24151950.
Guerra ML, Singh PJ, Taylor NF. Early mobilization of patients who have had a hip or knee joint replacement reduces length of stay in hospital: a systematic review. Clin Rehabil 2015;29:844-54. 10.1177/0269215514558641
Llau, J. ed. Thromboembolism in Orthopedic Surgery, chapter 2. Publisher: Winter, 2013.
Yu, X., Wu, Y. & Ning, R. The deep vein thrombosis of lower limb after total hip arthroplasty: what should we care. BMC Musculoskelet Disord 22, 547 (2021).
Zarghooni, K. et al. Is the use of modern versus conventional wound dressings warranted after primary knee and hip arthroplasty? Acta Orthopaedica Belgica 2015.
V Overschelde P. et al. A randomised controlled trial comparing two wound dressings used after elective hip and knee arthroplasty. Poster presentation at the 5th WUWHS conference, Florence, Italy, 2016