PPE Donation Will be Distributed to Developing Countries
Mölnlycke Donating 1.9 Million N95 Particulate Respirators to Operation Smile
November 17, 2021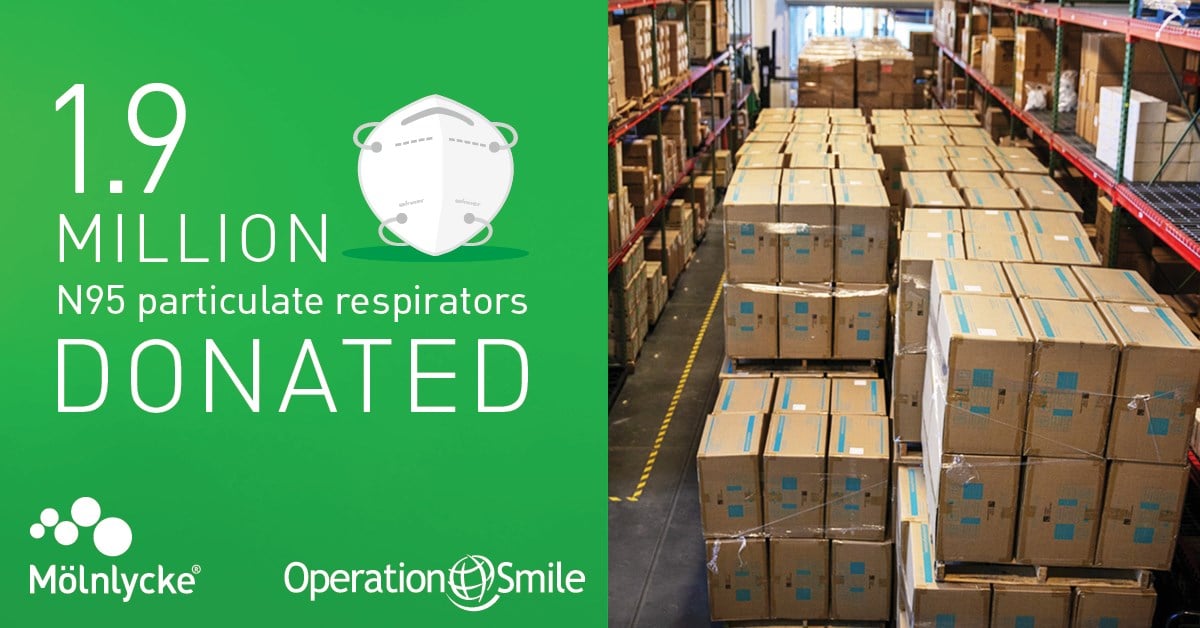 Norcross, GA, USA. November 15, 2021 – Mölnlycke Health Care is donating 1.9 million N95 particulate respirators to Operation Smile for distribution to healthcare personnel in developing countries worldwide, continuing a history of corporate support that began in 2004.
Since 2004, Mölnlycke has donated nearly 1.4 million pairs of Biogel® surgical gloves to Operation Smile, helping the nonprofit deliver the safest and highest quality surgical care to patients in underserved environments. Mölnlycke's support of Operation Smile totals more than $5.4 million in cash and product donations, which include surgical gowns, self-warming blankets and other consumables.
"At Mölnlycke, we're committed to having a positive impact on the world and this is one way we can support healthcare providers around the globe," said Chris Puricelli, VP of Commercial Gloves, Americas, Mölnlycke. "Even though our supply of valuable PPE is limited during the COVID-19 pandemic, we felt this donation would make a significant difference in people's health and lives. We're very pleased to continue our long-standing partnership with Operation Smile to ensure the masks go to areas most in need."
Operation Smile is dedicated to improving the health and dignity of people with cleft conditions. The global surgical nonprofit organization provides free cleft surgery and ongoing care for people in underserved environments, conducting surgical procedures in over 30 countries.
"With the pandemic, health systems in low- and middle-income countries are more constrained, compromised by competing priorities to address pandemic caseloads while also addressing existing medical needs," said Kendra Davenport, Operation Smile's chief development officer. "Our partners like Mölnlycke have stepped up to help front-line efforts around the world. By directing crucially needed supplies and equipment such as gloves, masks, gowns and ventilators where they are most needed, our teams worldwide are providing immediate relief to hospitals and supply chains that are being stretched beyond capacity."
The masks are to be distributed across Africa, Latin America and the Middle East through a partnership between Operation Smile and fellow nonprofit organizations Project C.U.R.E., MAP International and CMMB.
###
About Mölnlycke
Mölnlycke Health Care is a provider of high-quality healthcare solutions for customers, healthcare professionals and patients worldwide. We develop and bring to market innovative wound care and surgical solutions along the entire continuum of care – from prevention to post-acute settings. Our value-based solutions provide reduction of healthcare-acquired conditions supported by scientific, clinical, and health economic evidence. Since our beginning in 1846, we've grown into a global company and customers use our solutions in almost 100 countries. Several Mölnlycke facilities are located in the US, including manufacturing, distribution and office locations, and our headquarters are in Gothenburg, Sweden. To learn more about our story, brands and what we care about, visit www.molnlycke.us.
About Operation Smile
Operation Smile is a global surgical nonprofit that improves the health and dignity of patients living with cleft lip and cleft palate in low- and middle-income countries. Since 1982, Operation Smile has been committed to providing patients with health that lasts through life-saving cleft surgeries and comprehensive care, helping them to better breathe, eat, speak and live lives of greater quality and confidence. Its training and education programs elevate safe surgical standards and strengthen a global network to reach more people earlier in their lives. Learn more at www.operationsmile.org or by following @operationsmile on social media.