Worldwide Business with kathy ireland® Explores Advanced Medical Solutions with Molnlycke®
April 24, 2018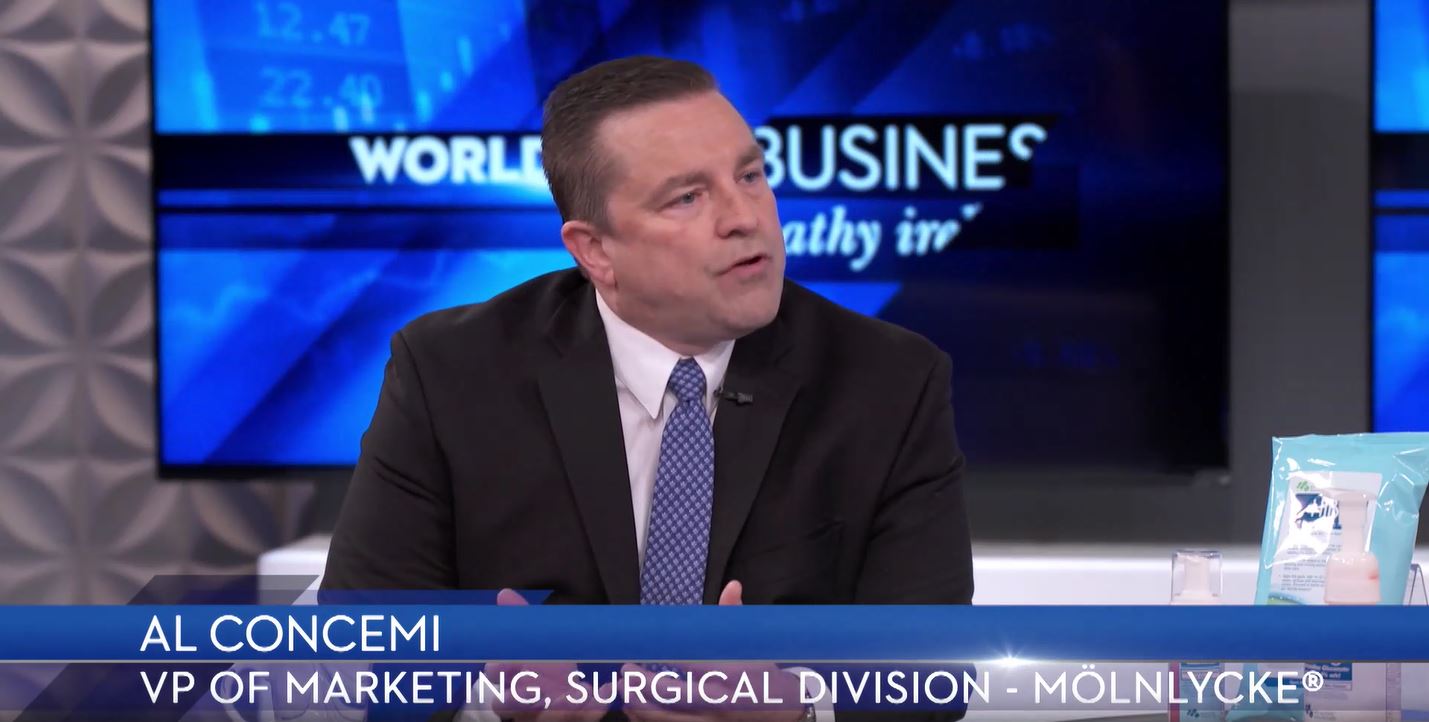 For Immediate Release:
Worldwide Business with kathy ireland® Explores Advanced Medical Solutions with Molnlycke®
Los Angeles, CA – April 24, 2018 — Worldwide Business with kathy ireland® is pleased to announce an exclusive interview with Molnlycke's Vice President of Marketing – US Surgical Division Al Concemi to discuss medical solutions and supplies for enhanced healthcare.
As one of the world's leading medical technology companies, Molnlycke® designs and supplies medical solutions to enhance performance at every point of care - from the hospital to the home. Founded in 1849 in Sweden, their mission is to advance performance in healthcare around the world.
Today, customers use their solutions in almost 100 countries and they own operations in more than 40 of those. Hibiclens®, one of their main products, is an antiseptic skin cleanser. It works up to 24 hours, is gentle enough for the most sensitive skin and can be used daily. Along with the HIBI® Universal Bathing System, Hibiclens can help provide the daily antiseptic bath that is a cornerstone of many infection prevention protocols. The role of Hibiclens within the total Mölnlycke solution was the primary focus of the interview and was supported by insight from healthcare providers.
"Healthcare systems are under pressure to deliver better care to more people with a better value. Right now, healthcare is focused on outcomes. By focusing on prevention issues, you are able to help reduce some costs to the healthcare systems. Our solutions are designed to help reduce the risk of infection, hospital readmissions, and hospital acquired conditions. These are things that can lead to much higher costs, much higher patient suffering, and longer length of stay," says Concemi. He adds, " And Hibiclens isn't just for the hospital – it also works in the home. That is why we continue to expand our retail availability to make it easier for consumers to buy Hibiclens. Because it bonds to your skin and has 24-hour protection, you're able to resist the multitude of germs you come across in your daily lives".
"Molnlycke is doing things right,' says J.L. Haber, Vice President of Programming for Worldwide Business. "Healthcare should always come first."
Alongside discussion on the Hibiclens brand and state of the industry , Concemi also shared Mölnlycke's commitment to corporate social responsibility. Molnlycke donates Biogel® surgical gloves to Operation Smile for cleft palate surgeries and makes significant contributions to the dEBra organization for EB (Epidermolysis Bullosa) awareness and wound care.
For more information about Molnlycke, visit Molnlycke.us.
About Worldwide Business with kathy ireland®
Worldwide Business with kathy ireland® is a weekly half-hour show featuring global executives sharing their business insights and framing the opportunities shaping their industries. Hosted by business mogul and one of the world's greatest corporate leaders, Kathy Ireland interviews some of the brightest minds in business today. The show broadcasts on Fox Business Network as part of their sponsored content line up and globally on Bloomberg International. Worldwide Business with kathy ireland® extends beyond the weekly on-air program with digital content delivered on various video platforms and across social media.
About Mölnlycke
Headquartered in Gothenburg, Sweden, Mölnlycke Health Care is a provider of high-quality healthcare solutions for customers, healthcare professionals and patients worldwide. We develop and bring to market innovative wound care and surgical solutions along the entire continuum of care – from prevention to post-acute settings. Our solutions provide value for money, supported by clinical and health economic evidence. Since our beginning in 1849, we've grown into a global company and customers use our solutions in almost 100 countries.
###
The Mölnlycke Health Care, Biogel, Hibiclens, HIBI, Mepilex, Safetac and Indicator trademarks, names and logo types are registered globally to one or more of the Mölnlycke Health Care Group of Companies. Distributed by Mölnlycke Health Care US, LLC, Norcross, Georgia 30092. © 2018 Mölnlycke Health Care AB. All rights reserved. 1-800-882- 4582.
hidden1
hidden2
Watch the Interview
Worldwide business
hidden1
hidden2
Molnlycke's Vice President of Marketing – US Surgical Division, Al Concemi discusses medical solutions and supplies for enhanced healthcare.