Thin bordered foam dressing
Mepilex Border Lite
The self-adherent all-in-one thin bordered foam dressing
-/-
Mepilex Border Lite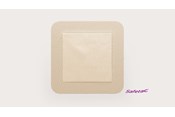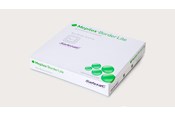 Mepilex Border Lite® is a thin and conformable version of Mepilex Border, ideal for body contours and hard to dress areas and is available in smaller sizes. It is a self- adherent dressing that absorbs exudate, maintains a moist wound environment and minimizes the risk of peri-wound maceration. The Safetac technology layer also minimizes pain and trauma to the wound and surrounding skin.
Minimizes trauma to the wound and pain to the patient during dressing changes
Excellent fit to the wound and body contours
A thin and conformable all-in-one dressing
Broad selection of sizes
Minimizes the risk of maceration
Does not adhere to moist wound
Adheres gently and securely to dry, intact surrounding skin
Red granulated wound
Low exudation
Painful wound
Sutured wound
Superficial wound
Fragile skin
Foot ulcer
Leg ulcer
Burn
Traumatic wound
Pressure ulcer
Bordered foam dressings
Absorbent dressings
Mepilex
hidden1
hidden2
Further product information
When to use Mepilex Border Lite
Non to low exuding wounds
Leg and foot ulcers
Pressure ulcers
Traumatic wounds (e.g., abrasions, cuts, finger injuries, blisters, and skin tears)
Protection of compromised and/or fragile skin
How to use Mepilex Border Lite
Watch how you can apply a Mepilex Border Lite all-in-on dressing.
Product details
| | | | |
| --- | --- | --- | --- |
| Code | Size | Pcs/box | Pcs/case |
| 281000 | 1.6" x 2" (4 x 5 cm) | 10 | 70 |
| 281100 | 2" x 5" (5 x 12.5 cm) | 5 | 65 |
| 281200 | 3" x 3" (7.5 x 7.5 cm) | 5 | 70 |
| 281300 | 4" x 4" (10 x 10 cm) | 5 | 50 |
| 281500 | 6" x 6" (15 x 15 cm) | 5 | 50 |