All-in-one foam dressing
Mepilex Border
The self-adherent all-in-one bordered foam dressing
-/-
Mepilex Border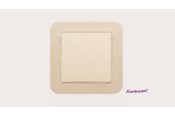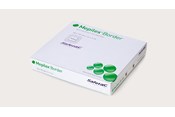 Mepilex® Border is a versatile all-in-one bordered foam dressing available in a large range of shapes and sizes. You can use it for managing chronic and acute wounds. Plus it's clinically proven to help prevent pressure ulcers.
The proven five-layer construction includes Safetac®. Safetac technology wound contact layer minimizes patient pain and trauma to the wound and surrounding skin at removal while reducing the risk of maceration.
Benefits of Mepilex Border
Atraumatic to the wound and surrounding skin on removal
Does not adhere to a moist wound
Adheres gently and securely to dry, intact skin
Maintains a moist wound environment
Minimizes the risk of maceration
Designed for ease of use and patient comfort
Barrier to outside moisture, viruses and bacteria *microorganisms >25 nm
How Mepilex Border works
Mepilex Border is designed for a wide range of exuding wounds such as pressure ulcers, leg and foot ulcers, traumatic wounds (e.g., skin tears) and surgical wounds.
Mepilex Border can also be used on dry/necrotic wounds in combination with gels.
Mepilex Border reduces postoperative blistering, and may also be used as part of a prophylactic therapy to help prevent skin damage, e.g., pressure ulcers.
Sloughy wound
Red granulated wound
Medium to high exudation
Painful wound
Superficial wound
Fragile skin
Foot ulcer
Leg ulcer
Burn
Traumatic wound
Pressure ulcer
Pressure ulcer prevention dressings
Bordered foam dressings
Absorbent dressings
Mepilex
hidden1
hidden2
Further product information
When to use Mepilex Border
Management of moderate to highly exuding wounds such as:
Pressure ulcers
Leg and foot ulcers
Traumatic wounds (e.g., skin tears and secondary healing wounds)
Aid in the prevention of skin damage
Incision Care
Mepilex Border may be left in place for several days depending on the condition of the wound and surrounding skin, or as indicated by accepted clinical practice.
How to use Mepilex
Border
Watch how to apply a Mepilex Border all-in-one foam dressing.
hidden1
hidden2
How Mepilex Border works
Watch how Mepilex Border works.
Product details
| | | | |
| --- | --- | --- | --- |
| Code | Size cm | Pcs/box | Pcs/case |
| 295200 | 3" x 3" (7.5 x 7.5 cm) | 5 | 70 |
| 295300 | 4" x 4" (10 x 10 cm) | 5 | 50 |
| 295400 | 6" x 6" (15 x 15 cm) | 5 | 50 |
| 295600 | 6" x 8" (15 x 20 cm) | 5 | 50 |
| 295800 | 4" x 8" (10 x 20 cm) | 5 | 25 |
| 295850 | 4" x 10" (10 x 25 cm) | 5 | 35 |
| 295900 | 4" x 12" (10 x 30 cm) | 5 | 25 |