Positioning device for newborn babies and pediatrics
Mӧlnlycke Z-Flo Fluidized Positioner – Neonatal and Pediatrics
Conformable fluidized positioning device for newborn babies in intensive care and pediatric population
-/-
Mölnlycke Z-flo Fluidized positioner for neonatal
Mölnlycke Z-Flo Fluidized positioner for pediatrics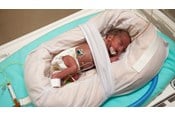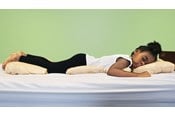 At Mölnlycke®, we want every newborn baby to have the best possible start in life. We've heard from neonatal intensive care unit (NICU) clinicians how newborn babies can suffer intense stress in a NICU, and that proper sleep is essential for normal neurodevelopment. Our Mölnlycke® Z-Flo™ Fluidized Positioners for Neonatal can help you provide the right care during these important early stages.
Mölnlycke® Z-Flo™ Fluidized Positioners for Neonatal are specially designed to comfort, support and help premature and ill infants continue normal development with containment in an individually molded nest. The infinitely adjustable neonatal positioners assist caregivers in meeting the unique positioning needs of NICU infants with a wide variety of medical conditions and equipment.
The fluidized medium in the fluidized positioner offers therapeutic support and contouring to help facilitate optimal positioning of the neonate. You can easily shape it with your hands into the right position for each baby and avoid pressure-forming contact areas. And you can rely on it to hold that shape until you re-mold it.
In a proof of concept trial on use of a conformational fluidized positioner compared to standard positioning, babies calmed more easily, showed reduced wakefulness and were observed to sleep better. Even babies with surgical and gastrointestinal complications showed higher sleep efficiency.
Contoured to fit across the continuum of care and patient ages
Z-Flo Fluidized Positioners helps support Neonatal as well as Pediatric patients through continuum of care and across all ages. They are used to redistribute force over a greater surface area or to help offload bony prominences while maintaining neutral body alignment. Unlike beanbag positioners and pillows, these unique fluidized positioners are not subject to the effect of gravity or memory. Once molded to meet the anatomic needs of an individual patient, they will hold that shape until remolded, and are available in a range of sizes.
We understand why it's important for you to be able to achieve the correct position for each baby: to avoid the baby's health being threatened. And as a global leader in pressure ulcer prevention, we're dedicated to reducing a baby's high risk of developing a pressure ulcer due to their very thin, immature skin. You can mold our Mölnlycke Z-Flo Fluidized Positioners for Neonatal specifically for each baby to aid in minimizing contact between medical tubes and lines and the baby's skin. And you can simply remold it each time you need to change the baby's position.
A new standard in developmental care
Unlike mattresses, fluidized positioners can be contoured to fit each individual baby, even accommodating medical devices as needed. And just like babies, our Mölnlycke Z-Flo Fluidized Positioners for Neonatal comes in a variety of sizes. Kits are also available. Now you and your team can provide the latest in developmental care and position babies for essential sleep and better outcomes.
Benefits of Mölnlycke® Z-Flo™ Fluidized Positioners for Neonatal
Minimizes the harmful effects of friction, shear forces and abnormal interface pressure on the baby
Helps caregiver change the infant's position with minimal disturbance to the patient
Conformational fluidized positioner provides better sleep efficiency
Offers a selection of sizes and kits
Won't flatten and heat up like rolled towels and blankets
Doesn't shift, lose shape or retain moisture like foam rings and wedges
Turning and positioning systems
hidden1
hidden2
Further product information
Product details
Neonatal and pediatric: full body
| | | | |
| --- | --- | --- | --- |
| Product code | Description | Dimensions | Pcs/case |
| 1400206 | Full Body - Medium with cover | 16" x 24" | 6 |
| 1400213 | Large Full Body - Large with cover | 20" x 30" | 4 |

Neonatal and pediatric: positioning kits
| | | |
| --- | --- | --- |
| Product code | Description | Pcs/case |
| 1400300 | Large Tube Combo - 1 Large Tube (60˝x6.5˝), 1 Medium Utility (9˝x15˝), 2 covers and 2 straps (20˝) | 6 |
| 1400304 | Medium Full Body Kit - 1 Medium Full Body (16˝x24˝), 1 Small Utility (7˝x10˝), 2 covers and 2 straps (20˝) | 6 |
| 1400307 | 2 Positioners Kit - Large Full Body (20˝x30˝), 1 Small Utility (7˝x10˝), 2 covers and 2 straps (20˝) | 4 |
| 1400308 | Large Full Body Kit - 1 Large Full Body (20˝x30˝), 1 Medium Utility (9˝x15˝), 2 covers and 2 straps (20˝) | 4 |

Pediatric care units
| | | |
| --- | --- | --- |
| Product code | Description | Pcs/case |
| 1400401 | 1 Large Utility (12˝x20˝), 1 Medium Utility (9˝x15˝), 2 Small Utility (7˝x10˝), 3 Covers | 6 |
| 1400403 | 2 Large Utility (12˝x20˝), 1 Medium Utility (9˝x15˝), 3 Covers | 6 |

Neonatal and pediatric: utility, tube and specialty products
| | | | |
| --- | --- | --- | --- |
| Product code | Description | Dimensions | Pcs/case |
| 1400233 | Square Utility Positioner - Small with cover | 7" x 7" | 18 |
| 1400227 | Utility Positioner - Small with cover | 7" x 10" | 12 |
| 1400239 | Utility Positioner - Medium with cover | 9" x 15" | 6 |
| 1400200 | Utility Positioner - Large with cover | 12" x 20" | 6 |
| 1400222 | Small Tube with 3 disposable covers (Case of 6 positioners w/ 18 disposable covers) | 30" x 6.5" | 6 |
| 1400224 | Large Tube with cover | 60" x 6.5" | 6 |
hidden2
Products and solutions
Related products