hidden1
hidden2
A common thread runs through the array of literature on patients with venous leg ulcers (VLUs): Patient quality of life is significantly impacted by the effects of chronic exudate.1,2,3 When dressings don't properly manage exudate, fluid can leak onto and soil patient garments, compression devices, wraps, furniture and healthy skin. It can be unsightly1, odorous4 and delay healing4. Many patients socially isolate themselves1 due to embarrassment.
Meanwhile, clinicians caring for these ulcers want to build trust with their patients. They are looking for solutions that help patients have a more positive experience managing their ulcer.5
It's not just for leg ulcers:
Mepilex Up is ideal for other chronic wounds too. Because Mepilex Up easily conforms to and fits difficult to dress areas11,12 it's suitable for a wide range of exuding wounds and locations, in all healing stages11,12 — making it a versatile and valuable addition to your clinic's formulary.
hidden1
hidden2
Say Hello to Mepilex Up
Mepilex Up is an innovative foam dressing intentionally designed to minimize the risk of leakage and prevent its spread to healthy skin.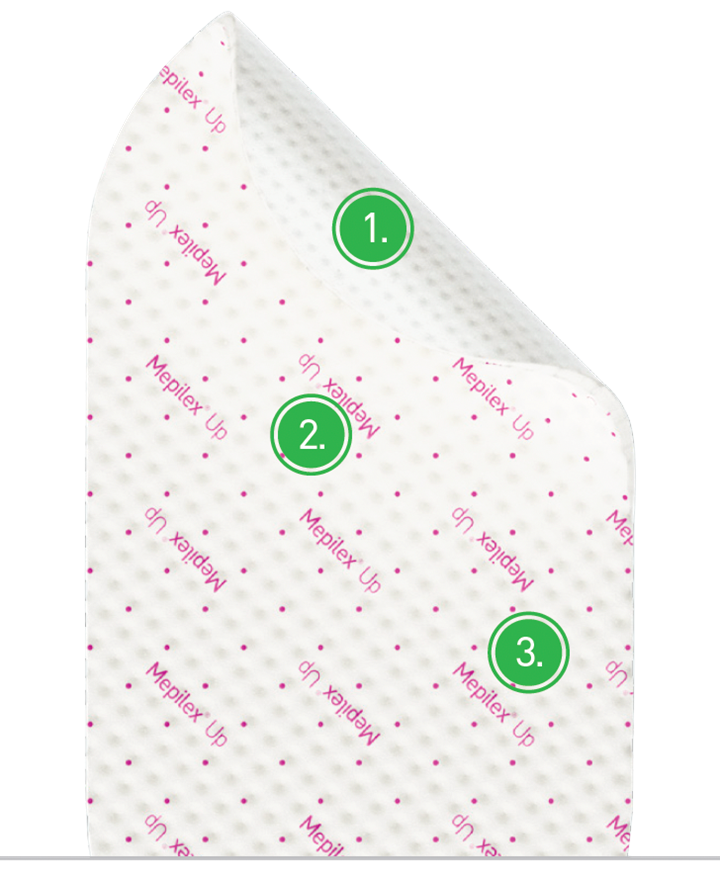 1. A contact layer made of our trusted Safetac technology provides gentle adhesion, minimizing pain and trauma to the wound and surrounding skin upon removal of dressing9
2. A breathable, water-resistant backing film secures fluid within the dressing while evaporating excess moisture
3. Highly comfortable, with a low profile. Easy-to-use, especially in difficult to dress areas - and can be cut to fit
hidden1
hidden2
How it works
Watch our time lapse video demonstrating Mepilex Up capabilities.
hidden1
hidden2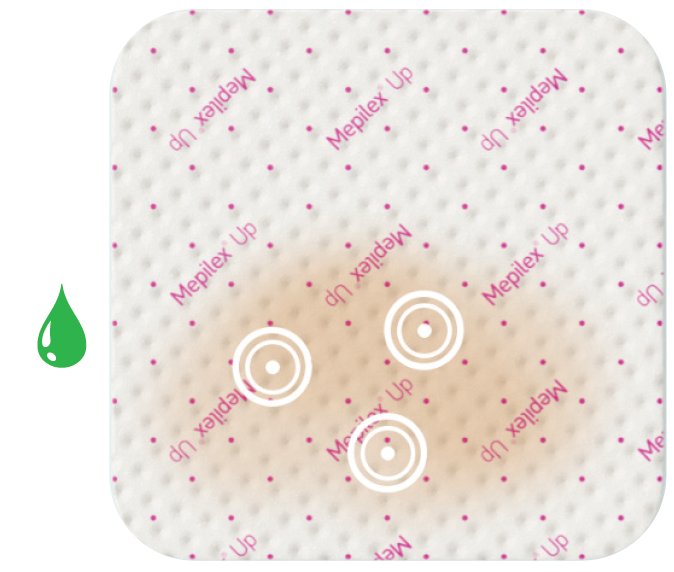 A patented foam structure creates a proprietary dimpled surface pattern.

6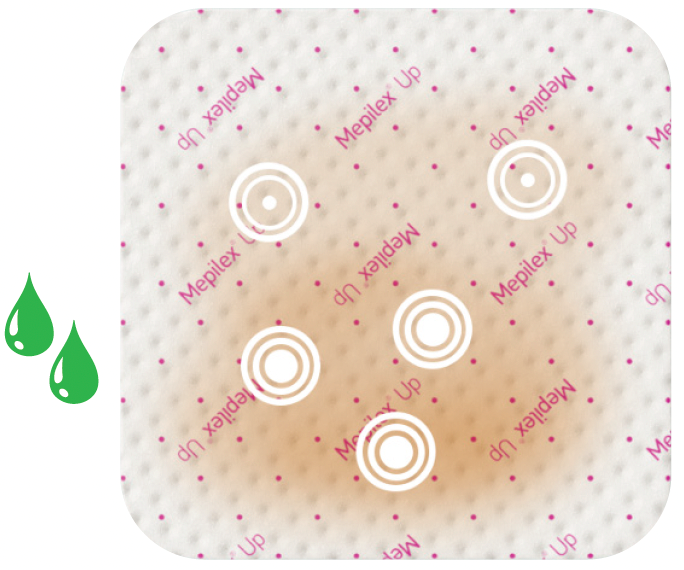 The dimpled pattern enables the dressing to

spread fluid evenly in all directions, even against gravity.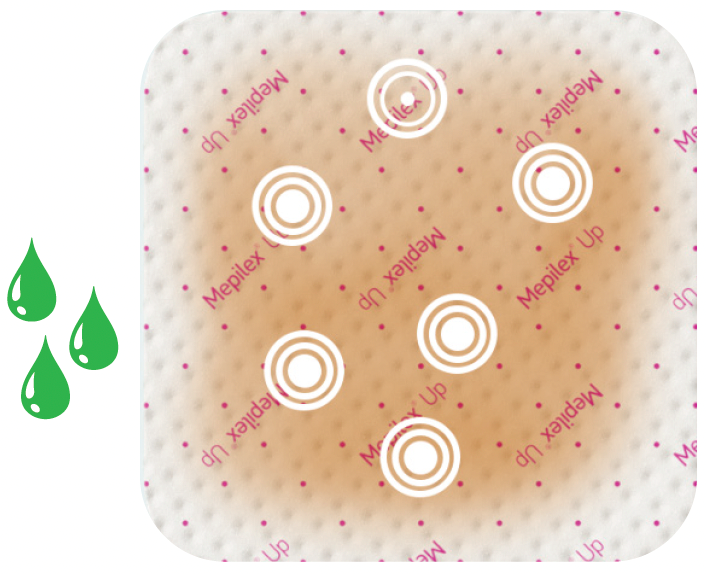 The innovat

ive

and unique spreading properties minimize risk of leakage and may contribute to long wear time and fewer dressing changes.

8
hidden1
hidden2
Mepilex Up helps promote efficient care
Given its unique spreading properties, Mepilex Up can successfully manage high volumes of fluid for a long period, which may contribute to a long wear time and fewer dressing changes,10 potentially saving valuable time and money. Additionally, leaving the dressing in place for several days supports undisturbed wound healing efforts and their subsequent benefits.
hidden1
hidden2
Show your patients that leakage
doesn't have to dominate
their every day
Foam dressings that can't adequately manage fluid from exudating ulcers are often wasteful due to the increased need for washing patient clothing, compression devices and bed linen. For clinicians, it potentially wastes not only medical supplies but also precious time rewrapping wounds. However, Mepilex Up may be left in place for several days depending on the condition of the wound and surrounding skin, or as indicated by accepted clinical practice.10
hidden1
hidden2
Explore Further Resources
Mölnlycke article in Wounds International:
The impact of venous leg ulcers on a patient's quality of life: considerations for dressing selection"
Authors: Dorothy Weir, RN CWON CWS, PA, Saratoga Springs, New York, Philip Davies, BSc(Hons), Senior Global Medical Affairs Manager, Medical and Economic Affairs, Mölnlycke Health Care, Gothenburg, Sweden
Ordering Information
| | | | | |
| --- | --- | --- | --- | --- |
| Product Code | Size In (cm) | Pcs/box | Pcs/case | HCPCS |
| 212199 | 4x4 (10x10) | 10 | 40 | A6209 |
| 212299 | 4x8 (10x20) | 10 | 30 | A6210 |
| 212399 | 6x6 (15x15) | 10 | 30 | A6210 |
| 212499 | 8x8 (20x20) | 10 | 30 | A6211 |
hidden1
hidden2
---
References
Green J, Jester R, McKinley R, Pooler A. Patient perspectives of their leg ulcer journey. J Wound Care. 2013 Feb;22(2):58, 60-2, 64-6. doi: 10.12968/jowc.2013.22.2.58. PMID: 23665659

Phillips, P, Lumley, E, Duncan, R, et al. A systematic review of qualitative research into people's experiences of living with venous leg ulcers. J Adv Nurs. 2018; 74: 550–563. https://doi.org/10.1111/jan.13465

Kelechi, T.J., Muise-Helmericks, R.C., Theeke, L.A. et al. An observational study protocol to explore loneliness and systemic inflammation in an older adult population with chronic venous leg ulcers. BMC Geriatr 21, 118 (2021). https://doi.org/10.1186/s12877-021-02060-w

Wound Essentials, Managing High Exudate Wounds How-To Guide, June 2012

Annica Lagerin, Ingrid Hylander & Lena Törnkvist (2017) District nurses' experiences of caring for leg ulcers in accordance with clinical guidelines: a grounded theory study, International Journal of Qualitative Studies on Health and Well-being, 12:1, 1355213, DOI: 10.1080/17482631.2017.1355213

Mölnlycke Health Care Data on File 2022

Mölnlycke Health Care Data on File 2022

Mölnlycke Health Care Data on File 2022

Overschelde P. et al. A randomised controlled trial comparing two wound dressings used after elective hip and knee arthroplasty. Poster presentation at the 5th WUWHS conference, Florence, Italy, 2016 2. Bredow J. et al. Evaluation of Absorbent Versus Conventional Wound Dressing. A Randomized Controlled Study in Orthopedic Surgery. Deutsche Arzteblatt International, 2018

Mölnlycke Health Care. Data on file. 2022

Weaver G, Crawford K. The use of Mepilex on dehisced amputation wounds. Wounds UK. 2007;3(1)

Mölnlycke Health Care Data on File 2022