Scrub suits
BARRIER Warm-up Jacket
Protection and comfort that's fresh and clean every time
-/-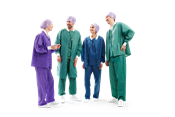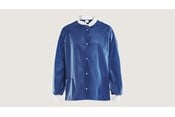 Our BARRIER® Long-sleeved Jackets are single-use, you can trust they are fresh and hygienic every time. There is no need to worry about wear and tear, stains or odors.
All BARRIER® staff clothing is made from low lint materials in a controlled, clean environment to reduce contamination.
For extra softness, our scrubs and long-sleeved jackets are made of Unisoft(s) material, a unique, lightweight, non-woven material that offers better air permeability and wicks away moisture from the air faster than reusable scrubs.
Single-use so they're hygienically fresh and clean every time
Lower bacterial air contamination than reusable cotton or polyester scrubs
BARRIER Long-sleeved jackets are quiet and feel extra soft against the skin

'In our feasibility study, single-use scrub suits received more positive feedback than reusable clothing. The study's results motivated management to decide in favor of single-use scrubs.'
Nicole Söll, Medical Documentalist, Inselspital, Bern, Switzerland
hidden1
hidden2
Further product information
Why use BARRIER® Long-sleeved Jacket
Unisoft® - a unique breathable nonwoven material
hidden1
hidden2
Always conscious of the environment
A lifecycle assessment shows that BARRIER single-use scrub suits have a smaller environmental impact compared to a reusable scrub suit in terms of lower CO2 emissions and less pollutants introduced into our bodies of water and into the air .
Product details
| | | | | |
| --- | --- | --- | --- | --- |
| Item No. | Color | Description | Size | Pcs/case |
| 18001 | Green | Long-Sleeved Jacket | S | 48 |
| 18010 | Green | Long-Sleeved Jacket | M | 48 |
| 18020 | Green | Long-Sleeved Jacket | L | 48 |
| 18030 | Green | Long-Sleeved Jacket | XL | 48 |
| 18040 | Green | Long-Sleeved Jacket | 2XL | 48 |
| 18050 | Green | Long-Sleeved Jacket | 3XL | 48 |
| 28000 | Blue | Long-Sleeved Jacket | S | 48 |
| 28010 | Blue | Long-Sleeved Jacket | M | 48 |
| 28020 | Blue | Long-Sleeved Jacket | L | 48 |
| 28030 | Blue | Long-Sleeved Jacket | XL | 48 |
| 28040 | Blue | Long-Sleeved Jacket | 2XL | 48 |
| 28050 | Blue | Long-Sleeved Jacket | 3XL | 48 |
hidden2
Products and solutions
Related products