Polychloroprene surgical underglove
Biogel Skinsense Indicator Underglove
Synthetic (non-latex) polychloroprene surgical underglove
-/-
Biogel Skinsense Indicator Underglove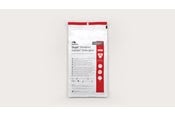 Biogel® Skinsense® Indicator® Underglove is a sterile, powder-free, synthetic, polychloroprene surgical glove that reduces the possibility of glove-related latex protein sensitization because it is made from a synthetic elastomer.
The underglove is blue in color and can be worn alone or with any Biogel overglove as part of the Biogel® Puncture Indication® SystemTM that detects up to 97% of glove punctures.
Tested according to ASTM 6978-05 and approved for use with chemotherapy agents. Please refer to permeation details for breakthrough times.
Can be worn alone or with any Biogel overglove to create the Biogel® Puncture Indication® SystemTM that detects up to 97% of glove perforations.
Smooth surface engineered for ease of double-donning even with damp hands
Unique Biogel coating soothes the skin to help prevent moisture loss
Beaded cuff for added security
Every glove is air inflation tested and visually inspected for quality and user confidence
Low dermatitis potential – this product demonstrated reduced potential for sensitizing users to chemical additives1
Industry leading AQL freedom from holes of 0.65
A clinical study found non-Biogel gloves are 3.5 times as likely to fail than Biogel.
Non-Pyrogenic
Additional Benefits
Curved finger design
Smooth surface for easy double donning
Blue colored
Synthetic polychloroprene
Biogel® polymer coating
Non-leachable blue pigment
* AQL = Acceptable Quality Level refers to the maximum number of defective products that could be considered acceptable during the random sampling of an inspection, in this case freedom from holes in gloves.
hidden1
hidden2
Eliminating latex can actually reduce your costs
hidden1
hidden2
A recent published study analyzed the clinical and operational costs related to the use of natural rubber latex gloves. The study found that the costs associated with latex allergy events and latex-related O.R. teardowns outweighed the line-item costs of synthetic or latex-free gloves. After the facility converted to Biogel synthetic gloves, they were able to reduce their overall costs by 25%, saving over $74,000.
Are your facility's glove choices allowing safety and savings to slip through your fingers? Maybe it's time to take a closer look at the power of a partnership with Mölnlycke. To learn more about the study or have a Biogel expert contact you, please click below.
hidden1
hidden2
Further product information
Product details
| | | |
| --- | --- | --- |
| Ref | Size | Pairs |
| 40655 | 5.5 | 50/Box |
| 40660 | 6.0 | 50/Box |
| 40665 | 6.5 | 50/Box |
| 40670 | 7.0 | 50/Box |
| 40675 | 7.5 | 50/Box |
| 40680 | 8 | 50/Box |
| 40685 | 8.5 | 50/Box |
| 40690 | 9 | 40/Box |
4 boxes per case
hidden2
Products and solutions
Related products