Convenient Patient Bathing System
Hibi Universal Bathing System
Harness the power of the bath with this convenient, basinless system
-/-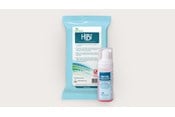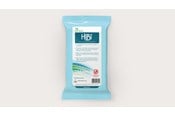 Rediscover the power of the bath. Our Hibi® Universal Bathing System (HUBS) is designed so that your patients can benefit from a water-based bed bath, while you maintain optimal infection prevention practices.
Each HUBS single-use waterproof pack includes 10 disposable cloths. This gives you what you need for bathing and rinsing your patient – five to apply, five to remove – or whichever ratio your team prefers.
Our HUBS, when combined with Hibiclens antiseptic skin cleanser, gives you the power to remove and kill bacteria with a proven 4% CHG solution. Your patients can benefit mentally and physically from a bed bath. Daily bed bathing provides the opportunity to evaluate skin integrity , stimulate circulation and promote range of motion and can improve the patient's self-image and comfort.
Greater control of the bathing patient process
Easy and convenient means for patient bathing
Efficient alternative to basins and linens
Compatible with Hibiclens antiseptic skin cleanser
Durable yet gentle disposable wash cloths
Antiseptics
Antiseptic body wash
hidden1
hidden2
Further product information
When to use Hibi Universal Bathing System
Use the HIBI Universal Bathing System as an alternative to basins and washcloths whenever providing patients with a daily bath. HUBS can be used with any soap, and works well with Hibiclens 4% CHG antiseptic skin cleanser as a part of infection prevention protocols for patient bathing.
Product details
| | | |
| --- | --- | --- |
| Code | Description | Units/case |
| 59910 | Hibi® Universal Bathing System | 48 |
hidden2
Products and solutions
Related products
hidden1
hidden2
Speak with a representative
To learn more, and have a representative contact you, please click below.