Heel boot for preventing pressure ulcers
Mölnlycke Z-Flex Heel boot
Fluidized heel boot for offloading pressure on the heel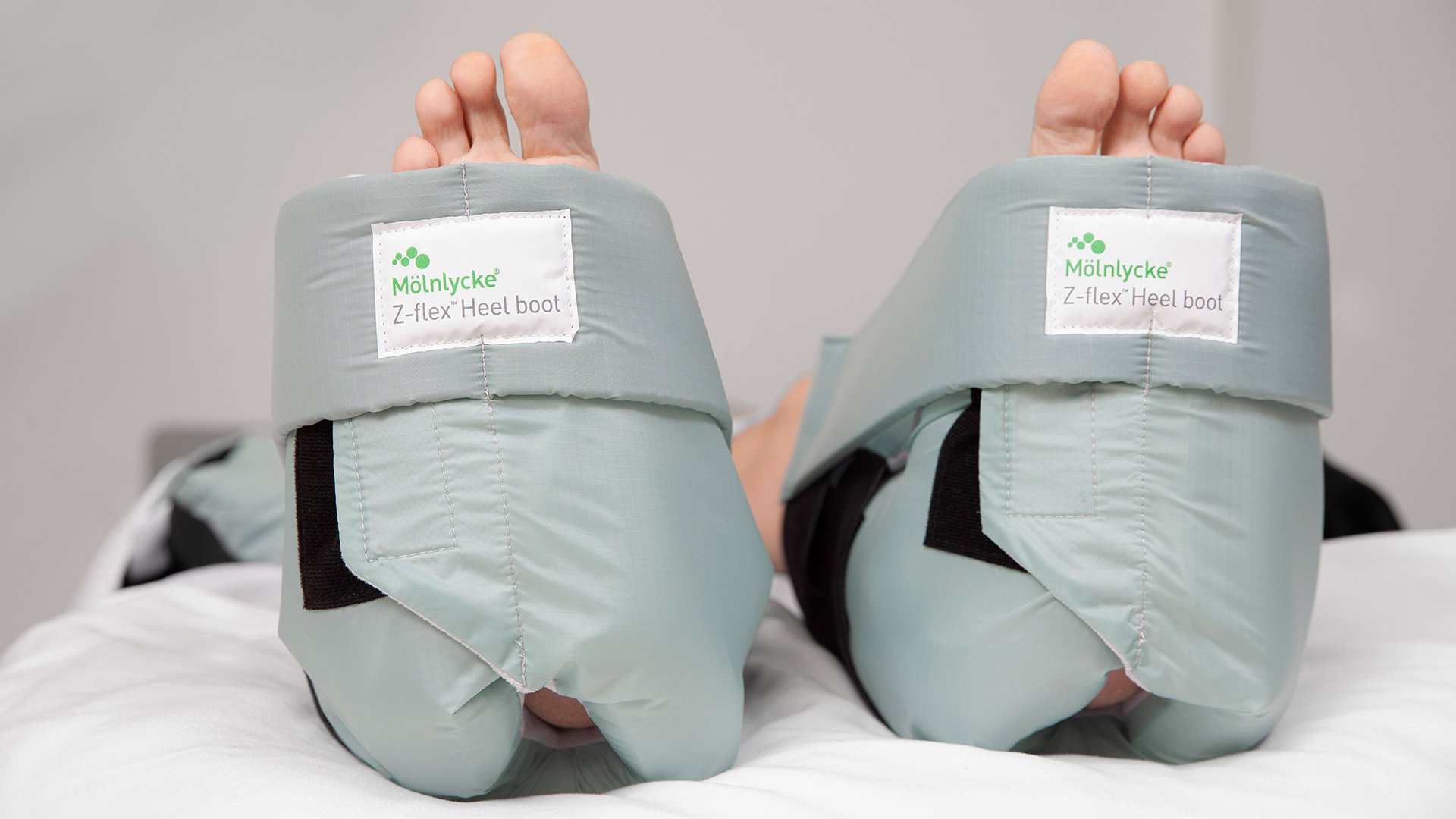 Mölnlycke Z-flex fluidized heel boot
The heel is the second most common location for pressure ulcers in adults. A heel pressure injury can be devastating to patient mobility and quality of life, and can lead to osteomyelitis and even limb amputation. Patients who are more prone to heel pressure ulcer development include those suffering from risk factors such as diabetes mellitus, vascular disease, immobility and an overall Braden Scale score of 18 or less.
International guidelines recommend that off-loading devices should completely lift the heel from the bed. The Mölnlycke® Z-Flex™ Fluidized Heel Boot was designed to lift the heel while being comfortable to wear and easy to use.
The Z-Flex boot combines Mölnlycke's unique fluidized positioner with a single low-pressure air chamber. The fluidized positioner molds and contours around the vulnerable Achilles tendon, supporting and protecting the tendon. The air chamber in the boot uses Positive Air Displacement to redistribute pressure from the heel and Achilles tendon to the whole lower leg. This adds comfort while encouraging natural alignment of the leg without the need for a wedge or pillow.
Benefits of Mölnlycke Z-Flex Fluidized Heel Boot
Adjustable shin straps to accommodate a variety of leg sizes
Accommodates use of sequential compression devices
Anatomically natural foot position is supported by an adjustable ankle supportstrap
Designed to be comfortable for the patient
Built-in gate allows skin assessment of the heel without removing the boot
Thermal regulating material helps keep legs comfortable
For single patient use only but can travel with patient across care continuum
Not made from natural rubber latex or DEHP
Foot ulcer
Leg ulcer
Pressure ulcer
Turning and positioning systems
Further product information
How to use Mölnlycke Z-flex Heel boot
Product details
| | | |
| --- | --- | --- |
| Code | Description | Pcs/case |
| 1400122 | Z-Flex Fluidized Boot – heel protector with gate and ankle strap | 2 |
| 1400123 | Z-Flex Fluidized Boot – heel protector with gate and ankle strap | 8 |
Speak with a representative
To learn more or to have a Z-Flex expert contact you, please click below.