ARTICLE
Gelling fiber: Separating fact from fiction
A close look at the features that matter most to managing chronic wound exudate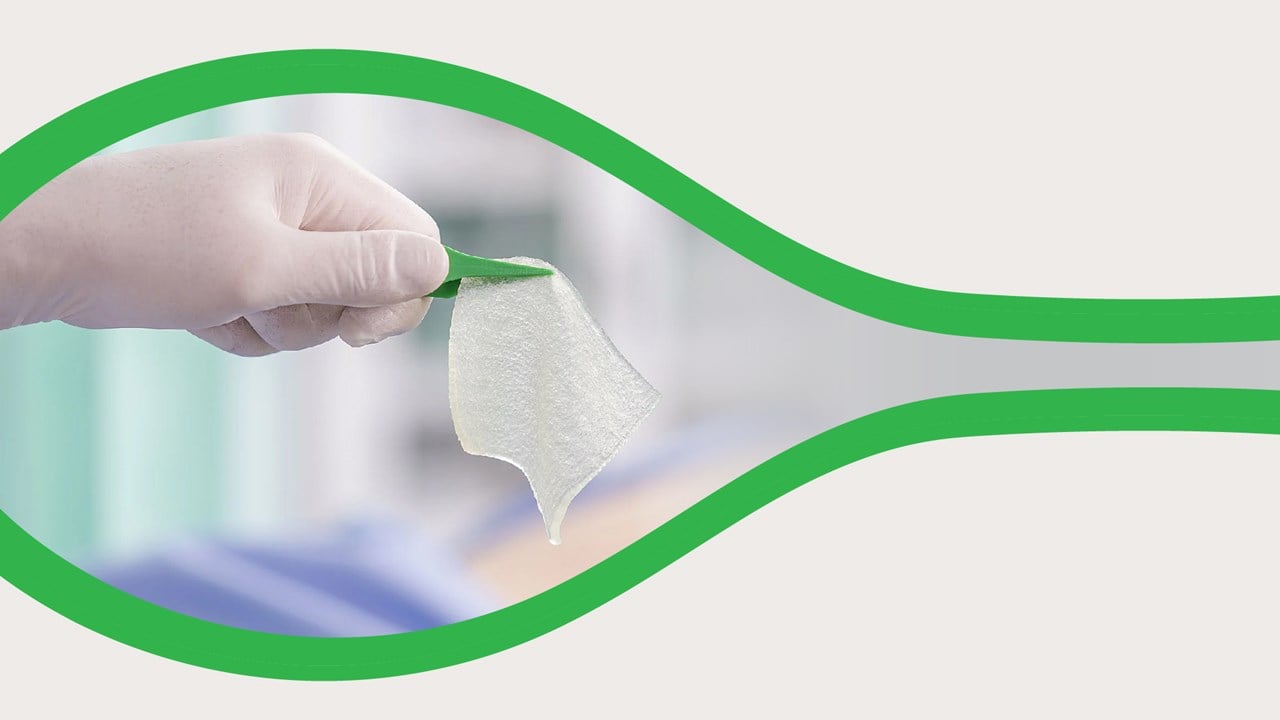 hidden1
hidden2
When it comes to highly exudating cavity wounds, fluid management is the name of the game when considering care protocols and dressing choices. But medical science has come a long way since practitioners stuffed gauze into wound cavities centuries ago. The more we learn about the pathophysiology of wound healing — and how a dressing can actually inhibit healing — the more confounding it becomes to decide the best approach for patients. Especially those with delicate skin who face weeks or months of treatment.
While there are four classes of modern dressings that are considered suitable for managing highly exudating wounds1, gelling fiber dressings represent the lion's share of the U.S. market for these applications. These dressings exhibit the properties of best practice wound management — enhanced absorbency and retention of exudate, even under pressure; proper moisture balance in the wound; minimal wound disturbance, and more. Yet there are distinct differences in how each gelling fiber dressing performs. This has led to some misconceptions in the wound care community about what a gelling fiber dressing should do and where it best fits in cavity wound care.
This article aims to clear up the confusion and lead you to the right solution for the application.
hidden1
hidden2
hidden1
hidden2
Fact check: Gelling fiber dressings can be used on shallow or dry wounds.
Many clinicians assume that because gelling fiber is built to handle a moderate to heavy exudate workload, it's suitable for lesser challenges. On the contrary. Gelling fiber dressings are meant to not only absorb and retain excess exudate — but also carefully regulate moisture to ensure the wound has what it needs for effective healing. Where too much exudate can delay healing, too little moisture deprives cells of important nutrients for tissue repair. Using gelling fiber dressings on shallow and/or dry wounds will leave the wound too dry to heal properly, and potentially create fibrinous material residue.2 (Some care providers try to counter these issues by wetting the gelling fiber before application. This only undermines the primary strength of the dressing: exudate absorption and transfer. To do the job, the dressing must be inserted dry.)
Finding: Stick to the indicated use. Gelling fiber dressings work best for deep wounds with moderate to heavy drainage or exudate (e.g., fungating wounds, burns, non-healing venous leg ulcers, pressure ulcers, chronic wounds, cavity wounds, surgical wounds, infected wounds, partial thickness burns and even donor sites.)

Fact check: As long as it's a gel, material doesn't matter.
Gelling fibers are not created equal. Some are made from naturally occurring alginate fibers, extracted from brown seaweed; others are synthetically produced from carboxymethylcellulose (CMC) and polyvinyl alcohol (PVA). Synthetics absorb 30 times their weight in wound fluid compared to alginates (which absorb 20 times their weight) and are also designed for vertical wicking which lessens the risk of adjacent skin maceration.3
Even within the synthetic category, CMC- and PVA-constructed dressings differ in notable ways. Viewed under a microscope, you can see gaps between the woven CMC fibers: "dead spaces" where exudate, blood and bacteria can accumulate. This extra fluid weakens the structural integrity of the dressing4 and potentially disturbs the healing environment.
Finding: There really is a material difference.
Look for a gelling fiber with tightly packed PVA fibers; in a microscopic view, you can clearly see the density of the fibers and lack of problematic dead space. The closeness of these fibers and the inherent ability of PVA to attract water creates a capillary effect that propels liquid into the core of the dressings without assistance from external forces.5 Additionally, the highly absorbent qualities of the PVA fibers trap exudate, blood and bacteria.6,7
But what's most important is that the PVA dressing's absorption and retention capacity — i.e., its ability to "lock in" exudate even under pressure and shear — be assessed not only in terms of fluid volume but also fluid viscosity as it changes over time. Ideally, you want a dressing that excels at retaining absorbed exudate despite the varying forces that may be applied to the dressing in the course of normal use. Factors to consider: Different rates of absorption for patients in supine, prone and lateral positions;8 the likelihood of repetitive movements like spasms or seizures;9 propensity for interstitial fluid formation due to conditions such as hypertension;10 and other situations that impact the flow of drainage.
hidden1
hidden2
Instead of focusing on stitching, look

for

PVA fibers with

a high "wet integrity" or tensile strength.
hidden1
hidden2
Fact check: Stitching in the gelling fiber means it's stronger and more durable
Some gelling fibers are designed with stitching or strings to reinforce the dressing and keep it intact upon removal. However, more modern gelling fiber dressings are constructed in such a way that this reinforcement is unnecessary. Besides, stitching means the potential for dressing pieces and debris to detach and remain in the wound bed — which can trigger a foreign body or soft tissue response; delay healing; and increase hands-on time to irrigate the wound at dressing change.
Finding: It's unnecessary.
Instead of focusing on stitching, look for durable PVA fibers with a high "wet integrity" or tensile strength. That's your true measure of dressing integrity and "one-piece removal" design. One thing to note: Those "stringless" dressings may feel a little stiff prior to application. That's actually a feature of the dressing's combined fluid management technology and structural integrity. Once it starts absorbing exudate, the material softens to the touch while holding up to any added force during wear or removal. Most importantly, the performance of the dressing shines where it matters most: In the wound.
Fact check: As long as the dressing is absorbing, it's working.
As alluded to earlier, the role of a quality gelling fiber goes beyond being a wound cavity filler. While it absolutely should absorb and retain moderate to heavy exudate — there's more to it than plugging it into a cavity and seeing the material quickly soak up fluid.
Finding: Transfer is the chief concern: A heavily exudating wound needs a gelling fiber that can both lift and carry exudate away from the wound bed to a secondary dressing.
The key word here is "transfer" — and that transfer process is essential to regulating moisture control in and around the wound. This goes back to the capillary action referenced earlier: PVA's closely packed, hydrophilic fibers act as a pump, even against gravity and compression — propelling liquid laterally into the core of the dressing, away from surrounding skin, then vertically to the secondary dressing. This eliminates pooling in the wound while maintaining a moist healing environment and protecting the periwound from maceration.
Fact check: It's necessary to change the primary gelling fiber and secondary cover dressing together — and often — to prevent leaking.
It depends on how the dressing performs — and the transfer process plays a big part. When there is no effective transfer of exudate between the primary and secondary dressings, a "plugging effect" occurs. Plugging limits fluid absorption and potentially sends exudate back into wound tissues where it can cause periwound skin damage and/or carry pathogens into the wound.11
Finding: Look for durability so you don't have to disturb healing.
Ideally you want a durable gelling fiber designed for a longer wear time to facilitate undisturbed wound healing [cross link opportunity to UWH content] — a cavity wound care best practice. Advanced gelling fiber dressings have been introduced that can safely stay in place for 7 days or more without being changed12 — owing to their high structural integrity. In the interim, as the fluid is transferred, you can change the secondary cover dressing, leaving the gelling fiber in longer, and making better use of the absorption capabilities of the secondary or cover dressing.
hidden1
hidden2
hidden1
hidden2
The takeaways
We've given you a great deal to digest as you evaluate various gelling fiber dressing options for cavity wound management. To summarize, the dressing you choose should satisfy three fundamental criteria:
Support a clean wound bed for

undisturbed healing

Is durable enough to stay intact for "one-piece" removal, leaving a clean wound bed, and

Can effectively absorb, lift and transfer wound exudate to a secondary dressing.
hidden1
hidden2
Want to learn about a gelling fiber that does all of this an

d

more?
Interested in hearing more about the testing behind the evidence? Check out the podcast with Dr. Amit Gefen - Gelling Fiber Dressings: How Structure and Function Relate to Healing
hidden1
hidden2
References
1. Naik G, Harding KG. Assessment of acceptability and ease of use of gelling fiber dressings in the management of heavily exuding wounds. Chronic Wound Care Management and Research. 2019;6:19-26; https://doi.org/10.2147/CWCMR.S16267
2. Weller CD, Team V, Sussman G. First-Line Interactive Wound Dressing Update: A Comprehensive Review of Evidence. Front Pharmacy. 2020;11:155. Published 2020 Feb 28. Don:10.3389/fphar.2020.00155
3. Harrison, J, RN, BSN, CWOCN, CFCN. Introducing an Alginate of Hydrofiber to the Highly Exudating Wound Bed, Halo Wound Solutions Newsletter. March 10, 2020
4. Gefen A, Timmons J, Carlsson E et al (2021) Exufiber® and Exufiber® Ag+: A review of the scientific and clinical evidence. Wounds International, London. Available to download from www.woundsinternational.com
5. Gefen et al (2021)
6. Mölnlycke Health Care. Report 20140812-012-V1. Data on File.
7. Mölnlycke Health Care Laboratory report PD-521245
8. Lustig A, Alves P, Call E, Santamaria N, Gefen A. The sorpitivity and durability of gelling fibre dressings tested in a simulated sacral pressure ulcer system. Int Wound J. 2021;18(2):194-208. Doi:10.1111/iwj.13515
9. Lustig A, et al (2021)
10. Levick JR, Michael CC (2010) Microvascular fluid exchange and the revised Starling principle. Cardiovascular Res 87: 198-210
11. Lustig A, et al (2021)
12. Lev-Tov H, Ajdic D, Mervis J et al (2020) A clinical investigation to evaluate the effect of an antimicrobial gelling fiber dressing on exudate in medium to highly exuding wounds. Poster presentation at SAWC Fall Virtual Conference