Gelling fiber dressing
Exufiber
Gelling fiber dressing with superior fluid retention for highly exuding wounds
-/-
Exufiber. Gelling fiber dressing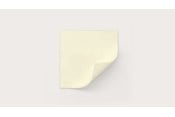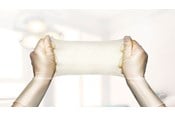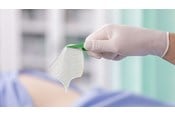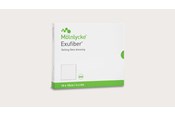 Exufiber® is a sterile non-woven gelling fiber dressing made from highly absorbent polyvinyl alcohol fibers. It can be used to manage a wide range of exuding wounds including cavity wounds, leg and foot ulcers, pressure ulcers, and surgical wounds. Upon contact with wound exudate, Exufiber transforms into a gel that facilitates moist wound healing and ease of removal during dressing changes.

Exufiber has a high absorption and retention capacity, reducing the risk of leakage and maceration. You can use Exufiber in combination with Mepilex® Border all-in-one bordered foam dressings.
Superior fluid retention capacity when compared to a leading gelling fiber dressing*
Less risk of leakage and maceration
Transforms into a gel that facilitates a moist wound healing environment
Easy one-piece dressing removal which may save time and potentially help provide patient comfort
Combining Exufiber and Mepilex Border all-in-one dressing, with Safetac

®

creates an effective wound management option for highly exuding wounds
* when compared to Aquacel® Extra
Sloughy wound
Medium to high exudation
High exudation
Viscous exudate
Wound cavity
Foot ulcer
Leg ulcer
Burn
Traumatic wound
Pressure ulcer
Donor site
Absorbent dressings
Gelling fiber dressings
Listen to what clinicians have to say about Exufiber
Emi Mateo Marín on her experiences with Exufiber
Further product information
When to use Exufiber
Exufiber can be used on a wide range of exuding wounds, including pressure ulcers, leg and foot ulcers, partial thickness burns, surgical wounds, donor sites, and chronic wounds.
How to use Exufiber
See these easy-to-follow instructions for using Exufiber.
How Exufiber works
The mechanically secured fibers are made of a strong synthetic material that swells upon contact with fluid, locking it securely away. This gives Exufiber higher fluid retention rates compared to a leading gelling fiber.
Hydrolock® Technology – Gelling fiber dressings reinvented
Exufiber is made using a patented processing method, with a different material from traditional gelling fibers. Our Hydrolock Technology locks in exudate, blood, and bacteria.
Viewed under a microscope, you can see that Exufiber is pack with full of tightly entangled fibers that minimize the free space for fluid or exudate to flow, which in turn boosts the entire dressing's integrity. The result is excellent tensile strength for easy removal and superior fluid retention to minimize the risk of leakage and maceration.
Ordering information
| | | | |
| --- | --- | --- | --- |
| Product Code | Size | Pcs/box | Pcs/case |
| 709900 | 2˝ x 2˝ (5 x 5 cm) | 10 | 40 |
| 709902 | 4˝ x 4.8˝ (10 x 12 cm) | 10 | 60 |
| 709903 | 6˝ x 6˝ (15 x 15 cm) | 10 | 60 |
| 709909 | 0.8˝ x 17.7˝ (2 x 45 cm) | 5 | 25 |