Five-layer foam sacral dressing
Mepilex Border Sacrum
Five-layer foam dressing for pressure ulcer prevention and management of sacral wounds
-/-
Mepilex Border Sacrum is the PROVEN 5-layer foam pressure ulcer prevention dressing(2)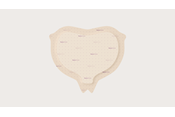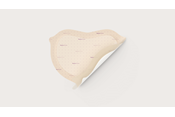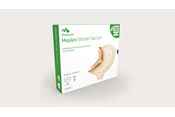 Mepilex® Border Sacrum features proprietary Deep Defense® technology, providing an optimal balance of strength and flexibility. Each of the unique five layers serves a specific purpose in pressure ulcer prevention, adding to the dressing's strength, durability and absorbency. No other dressing on the market exhibits these same properties – or the published, peer-reviewed results – in pressure ulcer prevention.
Only Mepilex Border dressings have over 80 evidence pieces to support their effectiveness in preventing pressure ulcers. The cost effectiveness of Mepilex Border Sacrum is supported by several clinical studies, including real-world health economic evidence showing a $77 reduction in per patient treatment costs in a cohort of 1.03m patients.
When used for management of wounds, Mepilex Border Sacrum effectively absorbs and retains exudate and maintains a moist wound environment for optimal healing. The Safetac® technology layer seals the wound edges, preventing exudate leakage onto the surrounding skin which minimizes the risk of maceration. The Safetac technology layer allows the dressing to be changed without damaging the wound or surrounding skin, or exposing the patient to additional pain.
Proven to prevent pressure ulcers – by up to 88% – when used as part of a comprehensive pressure ulcer prevention protocol
Mepilex Border dressings Proprietary Deep Defense Technology* addresses the key factor responsible for pressure ulcers, protecting against the extrinsic forces of pressure, shear and friction and managing microclimate

Safetac technology reduces the risk of maceration and minimizes pain during dressing changes

Excellent fluid-handling capacity and retention
Medium to high exudation
Painful wound
Superficial wound
Fragile skin
Foot ulcer
Pressure ulcer
Pressure ulcer prevention dressings
Bordered foam dressings
Shaped dressings
Absorbent dressings
Pressure ulcer treatment dressings
Mepilex
hidden1
hidden2
Further product information
When to use Mepilex Border Sacrum
Pressure Ulcer Prevention
Prophylactic dressings used as part of a pressure ulcer prevention protocol have been shown to offer significant benefits and are supported by international guidelines. Mepilex Border is the only 5-layer foam prevention dressing with 5 randomized clinical trials (RCTs) demonstrating the isolated effect of the dressing in preventing pressure ulcers. The dressing can be applied prophylactically in emergency departments, intensive care units, the OR and at other points along the care continuum when the patient is determined to be at risk.
When looking at the risk factors for pressure ulcers, both intrinsic and extrinsic factors must be considered. General health, nutritional status, skin moisture, age and history of previous pressure ulcers are some of the key intrinsic components that affect the risk for a patient developing pressure ulcers. Extrinsic factors include pressure, friction, shear, and microclimate.
*Note: the use of dressings as part of a prophylactic therapy does not preclude the need to continue to develop and follow a comprehensive pressure ulcer prevention protocol.
Wound Management
Use Mepilex Border Sacrum for medium-to-high exuding sacral wounds, such as pressure ulcers or surgical excision of pilonidal cysts. The dressing maintains a moist wound environment, which supports debridement, so you might see an initial increase in the wound size. This is normal and to be expected.
How to apply Mepilex Border Sacrum
hidden1
hidden2
How Mepilex Border helps in pressure ulcer prevention
Product details
| | | | |
| --- | --- | --- | --- |
| Product code | Size | Pcs/box | Pcs/case |
| 282055 | 6.3" x 7.9" (16 x 20 cm) | 10 | 50 |
| 282455 | 8.7" x 9.8 (22 x 25 cm) | 10 | 40 |
Packed sterile in single packs