Synthetic surgical glove
Biogel PI UltraTouch G
Synthetic (non-latex) surgical glove with enhanced sensitivity and softness with extra grip.
-/-
Biogel® PI Ultratouch G synthetic extra-grip gloves packaging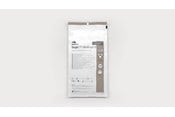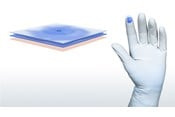 A sterile, powder-free, non-latex polyisoprene glove that reduces the possibility of glove-related latex protein sensitization because it is made from a synthetic elastomer. The gloves provide levels of fit, feel and comfort comparable to natural rubber latex because synthetic polyisoprene shares a similar molecular structure to natural rubber latex. Typically 15% thinner than Biogel® PI, it has a specially treated surface for improved sensitivity with extra grip and control.
Recommended for use in microvascular, cardiothoracic, ENT, plastic, neurosurgical, gynecological and general surgical procedures or surgeries where latex allergies are a concern for patients or clinicians.
Tested according to ASTM 6978-05 and approved for use with chemotherapy agents. Please refer to permeation details for breakthrough times.
Designed with a specially treated surface for improved sensitivity with extra grip and control.
15% thinner than Biogel PI
Polyisoprene (non-latex) to avoid latex sensitivities
Double-gloving with a Biogel overglove and underglove creates the Biogel® Puncture Indication® System™ that detects 97% of glove perforations.
A clinical study shows non-Biogel gloves are 3.5 times more likely to fail than Biogel gloves.
hidden1
hidden2
Eliminating latex can actually reduce your costs
hidden1
hidden2
A recent published study analyzed the clinical and operational costs related to the use of natural rubber latex gloves. The study found that the costs associated with latex allergy events and latex-related O.R. teardowns outweighed the line-item costs of synthetic or latex-free gloves. After the facility converted to Biogel synthetic gloves, they were able to reduce their overall costs by 25%, saving over $74,000.
Are your facility's glove choices allowing safety and savings to slip through your fingers? Maybe it's time to take a closer look at the power of a partnership with Mölnlycke. To learn more about the study or have a Biogel expert contact you, please click below.
Ordering information
| | | | |
| --- | --- | --- | --- |
| Code | Size | Pcs/box | Pcs/case |
| 42155 | 5.5 | 50/box | 4/case |
| 42160 | 6.0 | 50/box | 4/case |
| 42165 | 6.5 | 50/box | 4/case |
| 42170 | 7.0 | 50/box | 4/case |
| 42175 | 7.5 | 50/box | 4/case |
| 42180 | 8.0 | 50/box | 4/case |
| 42185 | 8.5 | 50/box | 4/case |
| 42190 | 9.0 | 50/box | 4/case |