Support bandage
Dermafit
The multi-purpose elasticated tubular bandage not made from natural rubber latex.
-/-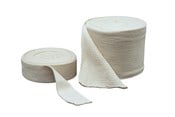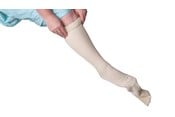 Dermafit provides firm support in the management of sprains, strains, and swelling. Once the bandage has been applied, covered elastic threads within the fabric move to adjust to the contours of the body and distribute pressure evenly over the surface. Product application is quick and easy.
Dermafit stays securely in position without pins or tapes, unlike conventional bandages. Dermafit can easily be reapplied after washing, without loss of effect. Dermafit measuring guides are available to help you select the appropriate size and level of sub-bandage support for the condition being treated.
Easy to apply and reapply
Full range of sizes to suit most applications
No pins or tapes needed
Cold-water washable and reusable

10m roll reduces waste

Not made with natural rubber latex
hidden1
hidden2
Further product information
Material properties
Cotton, elastic
How to use Dermafit
-/-
hidden1
hidden2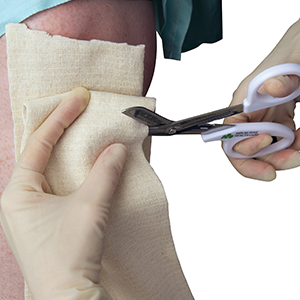 Cut a portion of Dermafit from the 10m roll that is twice the length required for the limb, allowing an extra 2-3 cm for overlap.
hidden1
hidden2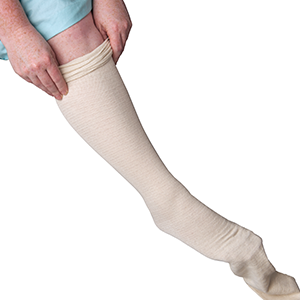 Pull Dermafit onto the limb like a stocking.
hidden1
hidden2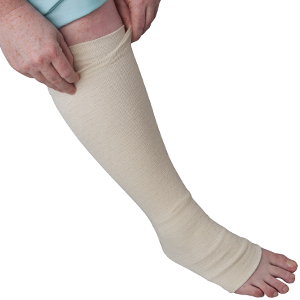 Double Dermafit back over the limb ensuring that the second layer ends 2-3 cm above the first layer. Turn under the edge to minimize fraying.
Ordering information
Size
Description
Product Code for
10m roll (32.81´)
Bandage Width
A*
Infant feet and arms
131935
1.75˝ (4.4 cm)
B
Small hands and limbs
131936
2.00˝ (5.1 cm)
C
Adult hands and limbs
131943
2.75˝ (7.0 cm)
D
Large arms and legs
131937
3.25˝ (8.3 cm)
E
Legs and small thighs
131934
3.75˝ (9.5 cm)
F
Large knees and thighs
131938
4.25˝ (10.8 cm)
G
Large thighs
131939
5.50˝ (14.0 cm)
J
Small trunks
131940
7.00˝ (17.8 cm)
K
Medium trunks
131941
8.50˝ (21.6 cm)
L*
Large trunks
131942
12.50˝ (31.8 cm)
* Sizes A and L are appropriate for tissue wrapping and protection, but not for firm support..
hidden2
Products and solutions
Related products