Antimicrobial gelling fiber dressing
Exufiber Ag+
Gelling fiber dressing with rapid antimicrobial action for highly exuding wounds
-/-
Exufiber Ag+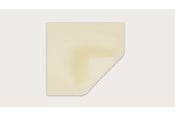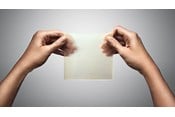 Exufiber® Ag+ wtih Hydrolock® technology is a sterile non-woven gelling fiber design with a rapid antimicrobial action for sustained protection against a broad range of Gram negative and Gram positive bacteria. Exufiber Ag+ is proven to kill 99 percent of fungus within 24 hours (in vitro) and may reduce odor.

When Exufiber Ag+ comes into contact with wound exudate, it transforms into a gel. The gel helps support a moist wound healing environment and stays in one-piece so it can be easily removed upon dressing change. The high absorption and retention capacity may reduce the risk of leakage and maceration.
Exugiber Ag+ can be used in the management of medium to highly-exuding wounds
Exufiber Ag+ can be used in combination with Mepilex® Border with Safetac®
Rapid antimicrobial action for up to 7 days (in vitro)
Kills a broad range of pathogens including VRE, MRSA (in vitro)
Proven to kill 99% of fungus within 24 hours

Superior fluid retention capacity

Highly absorbent even under compression

Sloughy wound
Medium to high exudation
High exudation
Viscous exudate
Wound cavity
Infected wound
Foot ulcer
Leg ulcer
Burn
Pressure ulcer
Antimicrobial dressings
Absorbent dressings
Gelling fiber dressings
hidden1
hidden2
Further product information
When to use Exufiber Ag+
Exufiber Ag+ is intended to be used on medium to highly-exuding wounds. It's suitable for leg and foot ulcers, including diabetic foot ulcers, pressure ulcers, surgical wounds, donor sites, partial thickness burns, malignant wounds and dermal lesions. Exufiber Ag+ may be used under compression.
How to use Exufiber Ag+
hidden1
hidden2
Easy-to-follow instructions for application of Exufiber Ag+
hidden1
hidden2
Exufiber Ag+ demonstration of its integrity and fluid retention properties
hidden1
hidden2
Listen to what clinicians have to say about Exufiber
hidden1
hidden2
Watch how the mechanically-secured fibers – and how the material swells upon contact with fluid, locking it securely away
hidden1
hidden2
Hydrolock technology
Superior fluid retention
Exufiber Ag+ with Hydrolock® technology is designed for highly-exuding wounds. Exufiber Ag+ is made of a different synthetic material than conventional fiber dressings. Hydrolock technology packs the dressing fibers tightly, leaving less space for fluid to flow freely. This enables superior fluid retention – compared to other gelling fiber dressings – and reduces the risk of leakage, protecting skin against maceration.

Ordering information
| | | | |
| --- | --- | --- | --- |
| Product code | Size | Pcs/box | Pcs/case |
| 603421 | 2˝ x 2˝ (5 x 5 cm) | 10 | 40 |
| 603422 | 4˝ x 4.8˝ (10 x 12 cm) | 10 | 60 |
| 603423 | 6˝ x 6˝ (15 x 15 cm) | 10 | 60 |
| 603424 | 8˝ x 12˝ (20 x 30 cm) | 5 | 20 |
| 603420 | 0.8˝ x 17.7˝ (2 x 45 cm) | 5 | 20 |
hidden2
Products and solutions
Related products