ABSORBENT FOAM DRESSING
Mepilex Up
Designed to minimise the risk of leakage
-/-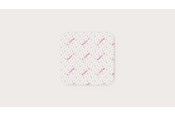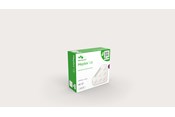 Mepilex® Up is a new kind of non-bordered foam dressing, designed minimise the risk of leakage. Its proprietary dimpled surface pattern enables the dressing to spread fluids in all directions, even against gravity . These unique spreading properties can contribute to long wear time and fewer dressing changes .
Safetac® adheres gently to intact skin but not the wound itself, thereby preventing damage to the peri-wound skin (e.g. skin stripping) and the wound bed, as well as minimising associated pain on removal . Safetac seals the wound edges, preventing exudate from leaking onto the surrounding skin, thus minimising the risk of maceration .
Intuitively designed to counteract the challenges of leakage
Unique capability to spread fluids in all directions even against gravity
Supporting a higher fluid handling capacity than other foam dressings*
Effectively manage high volumes of fluid for a long period of time
Ability to handle viscous fluids
Can be used on a wide range of wounds and locations
*When comparing lab test results for Allevyn◊ Gentle, Biatain® Silicone Non-Border, Allevyn◊ Non Adhesive to Fluthe Method and Fluid Handling Capacity SS-EN 13726-1.
Low exudation
Low to medium exudation
Medium to high exudation
Viscous exudate
Painful wound
Foot ulcer
Leg ulcer
Compression therapy
Non-bordered foam dressings
Absorbent dressings
Mepilex
hidden1
hidden2
Further product information
When to use Mepilex Up
Mepilex Up is intended for the management of a wide range of exuding wounds in all healing stages such as venous leg ulcers (VLU) and diabetic foot ulcers (DFU). The dressing change interval may be several days depending on the wound. Mepilex Up can be used under compression bandages and in combination with gels.
How to use Mepilex Up
-/-
hidden1
hidden2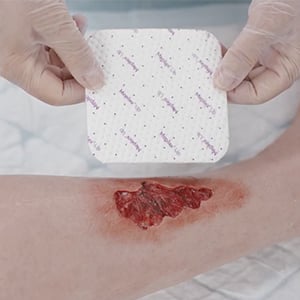 1. Cleanse the wound in accordance with clinical practice. Dry the surrounding skin thoroughly. Select an appropriate dressing size. The dressing should cover the dry surrounding skin by at least 1-2cm for smaller sizes (sizes up to 12.5x12.5cm) and 3-5cm for larger sizes. If required, the dressing may be cut to suit various wound shapes and locations. Remove the first release film.
hidden1
hidden2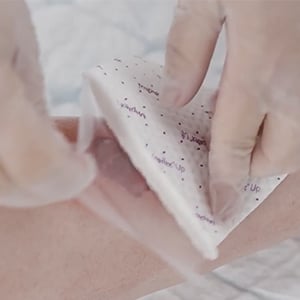 2. Apply the adherent side to the wound. Remove the remaining release film and smooth down the dressing on the skin. Do not stretch the dressing.
hidden1
hidden2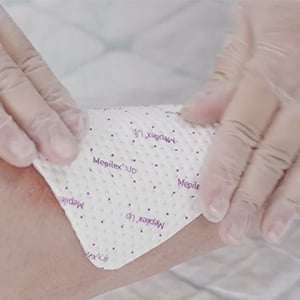 3. When necessary, fixate Mepilex Up with a bandage or other fixation.
See how to cut and apply the dressing to different body areas
Product details
| | | | |
| --- | --- | --- | --- |
| Product Code | Size In (cm) | Pcs/box | Pcs/case |
| 212199 | 4x4 (10x10) | 10 | 40 |
| 212299 | 4x8 (10x20) | 10 | 30 |
| 212399 | 6x6 (15x15) | 10 | 30 |
| 121499 | 8x8 (20x20) | 10 | 30 |